Demonstrate your commitment to responsible food practices and access a wider, global market. GLOBALG.A.P. is a global organisation that has developed a trademark and a set of standards for good agricultural practices (G.A.P.).
The Integrated Farm Assurance (IFA) is the most widely used GLOBALG.A.P. standard. It has been used as a basis for the GLOBALG.A.P. Number (GGN) label – the consumer label for certified, responsible farming and transparency. As such, this certification allows you to reach new markets and grow your business globally while assuring consumers that your production and management practices meet industry-recognised requirements.
The GLOBALG.A.P. IFA certification programme includes a third-party auditing process. Preferred by Nature is accredited by International Organic Accreditation Service (IOAS) to carry out farm certifications in accordance with the GLOBALG.A.P. Integrated Farm Assurance (IFA) V 6 Standard as below. Please refer to www.ioas.org/accreditation/accredited-bodies/ for more information.
The IFA V 6 Standard covers:
Fruits and Vegetables

:

Food Safety • Environmental sustainability and biodiversity  • Workers' health, safety and welfare • Animal health and welfare • Legal, management and traceability • Production process • Integrated crop management (ICM) and integrated pest control (IPC) • Quality management system (QMS) and Hazard analysis and Critical control points (HACCP) 

Flowers and ornamentals
Hops
---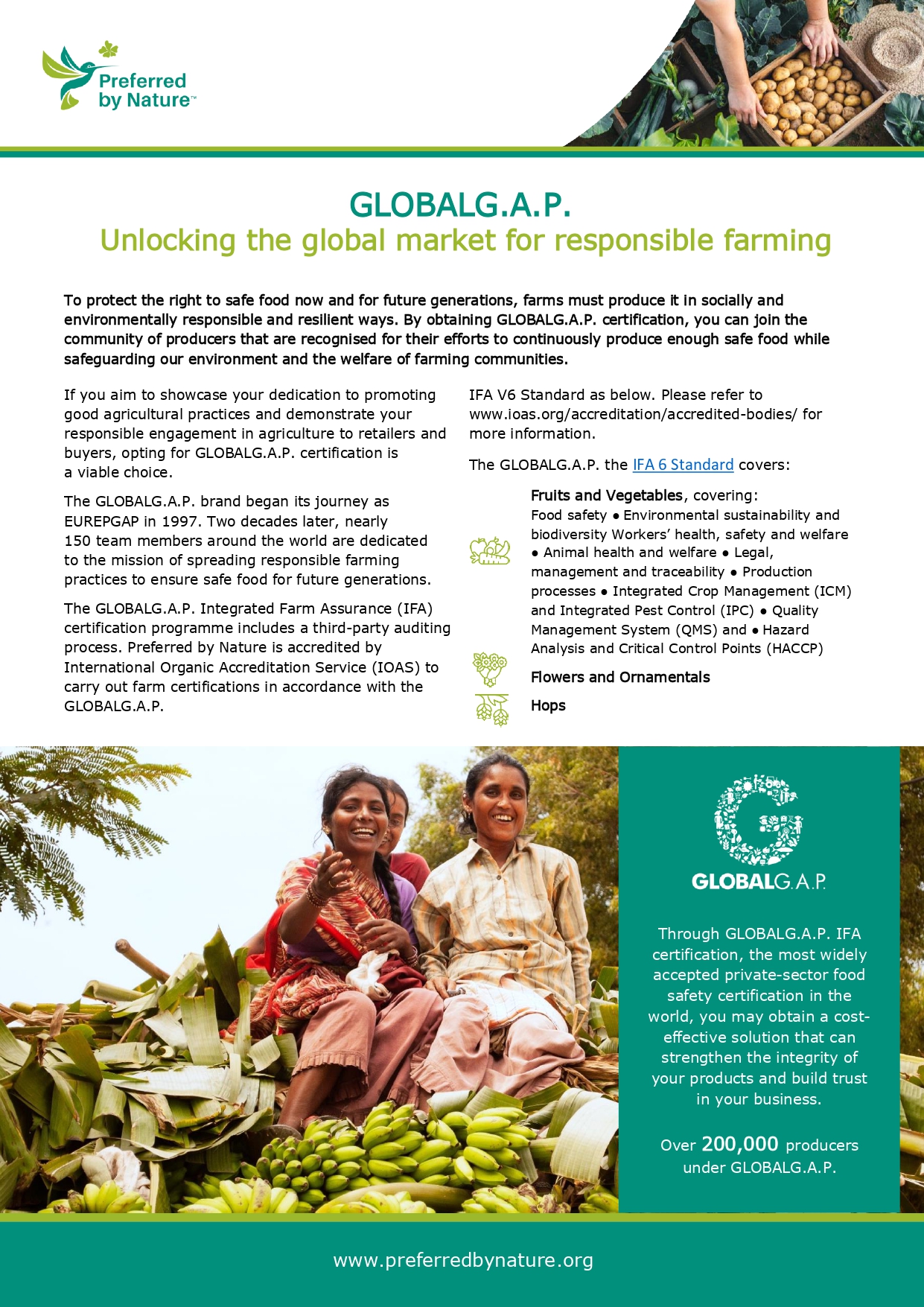 >> Download our GLOBALG.A.P. info sheet to learn more! 
To demonstrate your commitment to good agricultural practices and access a wider, global market, contact our team to get started on your GLOBALG.A.P. certification journey.