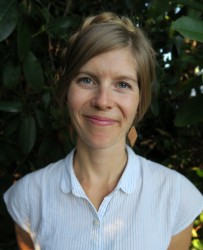 Ruth Hogue
Legal Administration Specialist
rhogue@preferredbynature.org
Ruth oversees the development and maintenance of legal contract processes, including contract negotiation, maintaining contract records, and monitoring contract activities.
One of my favorite things about working for Preferred by Nature is being part of an organization made up of such a diverse group of people from all around the world that share similar values. I feel a lot of satisfaction knowing that we are working toward environmental conservation and sustainability, which is a cause I have championed since childhood. 
Ruth helps to develop procedures and provide guidance and training on best practices for all points in a contract lifecycle. She supports the maintenance of Preferred by Nature´s Salesforce Contracts Database, and proposes and implements solutions for gaps or issues in the system. She coordinates the review and approval of Preferred by Nature contracts and monitors agreement execution, expiration, extension, and/ or renewal, as appropriate. 
Before joining Preferred by Nature, Ruth worked for Rainforest Alliance on the RA-Cert Quality Assurance Team with maintenance and improvement of their global certification systems and databases. Prior to that, she worked as a legal assistant in law firms for almost nine years with complex litigation in state and federal courts and was Chair of the Sustainability Committee at her last law firm. Other background includes work in floristry, with the US Forest Service and as a tour guide in Alaska. Ruth has also volunteered with several organizations focused on environmental conservation, community improvement and human welfare. 
Ruth joined Preferred by Nature in 2018. 
Skills at a glance
Background in legal administration and legal documents 

Skilled in writing, proofreading and editing, quality monitoring, systems and procedures 

International experience in Central and South America, Southeast Asia and Europe 
Languages spoken: English and Spanish