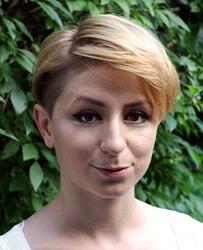 Małgorzata Buczkowska
Certification Support Specialist
mbuczkowska@preferredbynature.org
+48 12 427 00 93
Małgorzata is working as Certification Assistant in Preferred by Nature's Polish office.
Małgorzata is Certification Assistant supporting the delivery of FSC and PEFC certification services and she is also responsible of running smoothly the daily tasks in Preferred by Nature's Polish office.
Her duties cover certification administration and general office administration. She's also responsible for translation of some documents.
Her educational background is in Art Education. Her interests are connected with environmental protection; among others she's interested in ecological design because in her opinion the most important is a growing responsibility and understanding of our ecological footprint on the planet.
She joined Preferred by Nature in 2012.
Skills at a glance
Certification administration 
Supporting the office 
Translations 
Languages spoken: Polish, English