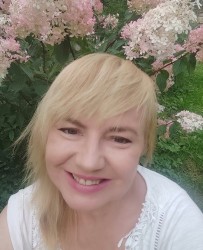 Katarzyna Nagrodzka (Kasia)
Communications Specialist
knagrodzka@preferredbynature.org
Katarzyna (Kasia) supports Preferred by Nature's communication team through her efforts for effective communication with the clients, successful relationship coordination and enhanced customers' experience.
In her free time, she takes care of her biodiverse garden and educates people through her rhymes about herbs and need for biodiversity on her Facebook page "Zielone Pisanki" ("Green Poems").
Away from bumptiousness, posturing, cheap thrills
Alliance with black birds, mint and daffodils 
So grateful for meadows, ants and apple tree
For forests, for rivers and for bumblebee
Save hedgehog, help sparrows … one step at a time
As Nature deserves your attention and rhyme
Love all bees, let plants grow, to give bees some food
Yes, you can start acting in your neighbourhood!
Move further, step by step, first, second and third…
In efforts for green world, by Nature preferred
Katarzyna holds a master's degree in applied linguistics from the University of Warsaw, Poland. She is also a certified PR specialist, educated in London School of Public Relations, with syllabus approved by the National Union of Journalists and Public Relations Consultants Association.
She joined Preferred by Nature after years of working on integrated marketing communication and PR positions in retail, telecom and production industries. Kasia has also a good experience in working as a linguist, content writer, proofreader, Polish / English translator and teacher of English.
Kasia's role in Preferred by Nature is to contribute to high-quality organisational communications, e.g. through supporting teams in promoting and delivering sustainability services and implementing programmes to measure, track and improve the customer experience. 
Katarzyna joined Preferred by Nature in 2021.
Skills at a glance
Integrated marketing communication
Certified Public Relations specialist
SEO optimised content writing and proofreading
Surveying and research
Polish / English translations
MA in applied linguistics
Proficient in Polish and English