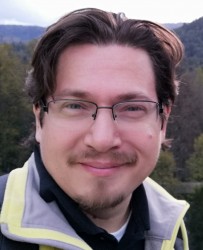 Saúl Blanco Sosa
Director of Sustainable Travel
sblanco@preferredbynature.org
saulblanco
Saúl is responsible for the overall provision and development of Preferred by Nature sustainable tourism services globally. He leads all Preferred by Nature activities and projects in the fields of tourism certification and capacity building, which are designed to promote the adoption of responsible practices within the tourism industry, to improve the sustainability performance in the sector.
Working with Preferred by Nature's tourism services allows me to promote sustainable principles in a sector that is unique in its capacity to positively transform the lives, perceptions and behaviours of hosts and visitors alike. 
Tourism is not just an industry, but it is also a powerful tool through which we are raising awareness about some of the world's most concerning environmental, cultural and social issues.  It's a powerful instrument to educate and create a common front committed to conserving our biodiversity, fight climate change, improve cultural understanding, lower discrimination and boost equity.
Saúl is the sustainable tourism services manager for Preferred by Nature. Besides the strategic role that he plays for this service at Preferred by Nature, he is also a Senior Auditor for the Sustainable Tourism certification services and an auditor-trainer.
Saúl was born in Guatemala, Central America. He studied in social and legal sciences, with a specialisation in tourism business administration. He has been working in tourism industry for more than 25 years. He started as a trip leader and tour guide for various natural and archaeological trips in Guatemala.
In 1999, he switched to Sustainable Tourism certification and since then, he has worked for different national and international organisations such as Guatemala´s Development Foundation (FUNDESA), Guatemala's Tourism Board, US Agency for International Development (USAID) Guatemala, Counterpart International and the Rainforest Alliance. In his previous roles, he provided technical assistance for tourism projects, conducted training on the implementation of best management practices and developed tools for measuring the impact of sustainable practices.
Prior to joining Preferred by Nature, Saúl worked for the Rainforest Alliance (RA) certification unit, RA-Cert where he designed and developed the Sustainable Tourism certification services.
Saúl joined Preferred by Nature in October 2018 where he continues managing and operating the Sustainable Tourism certification services, now owned and managed by Preferred by Nature.
Skills at a glance
BSc in Legal and Social Sciences, with a specialisation in tourism business administration

Senior auditor and auditor-trainer for Preferred by Nature's Sustainable Tourism certification services.

Experienced in 

technical assistance on the implementation of best management practices for hotels and tour operators

 

Worked in many 

Latin American countries

 in projects related to sustainable tourism development and certification schemes, 

community

-

based

 tourism and auditing.

 

Spoken languages: Spanish and English