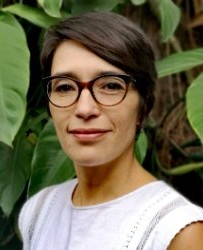 Luz Elena Reyes
Service Development Manager
lreyes@preferredbynature.org
+502 42045606
Luz E Reyes
Luz Elena Reyes is our Tourism Technical Specialist. In her role, she provides support to Tourism Services Manager and the Systems and Integrity team, such as developing and maintaining the systems, delivering training, investigating dispute, executing internal corrective actions and monitoring quality.
Her other responsibilities include managing and developing Central America and the Caribbean tourism client portfolios, ensuring proper client care, delivering an efficient and effective service and supporting the marketing and sales efforts to increase the number of certified clients in this region. She is also in-charge of scheduling and carrying out assessments and audits in the role of lead auditor, RRA reviewer, and/or other support roles when needed.
Aware of the economic, social and environmental problems that the world faces at this moment and how sustainable tourism can be a driver for solutions and positive changes in the travel industry worldwide; being part of Preferred by Nature, gives me the opportunity to contribute to make a better world through my work in the tourism sector. 
Luz Elena Reyes began her studies in 1993 at the Universidad del Valle de Guatemala. She studied Ecotourism as she was determined to work in the tourism field and to contribute to the development of communities in the countryside of Guatemala.
Since then, she has actively worked in this sector, promoting responsible tourism as a driver for sustainable development.
In the last two decades, Luz Elena actively worked in the tourism sector in Guatemala as an independent consultant working with governmental and non-governmental institutions, business and communities in the planning and implementation of tourism projects in protected and rural areas of Guatemala.
In 2009, she started working in the Sustainable Tourism certification field as an auditor for the Rainforest Alliance certification unit, RA-Cert.
Luz Elena joined Preferred by Nature in 2018. In her current role, she continues her work as an auditor and a tourism specialist, wanting to contribute and to transform the industry globally towards a sustainable tourism sector.
Skills at a glance
Technical expertise in sustainable tourism management systems and auditing process. 

Sustainable Purchasing in Tourism Services. 

MA Sustainable Tourism Management 

MA Cultural Management/Cultural Tourism  

BA in Ecotourism 

Languages spoken: Spanish, English and French.