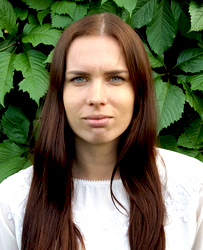 Eveli Aasa
eaasa@preferredbynature.org
+372 53424040
Eveli.Aasa
Eveli is our FSC and PEFC Chain of Custody Auditor in the Estonian Office.
I believe that we can change the world and as in addition to that I like the feeling that I work in the Organisation which seeks for sustainable future. Preferred by Nature is the Organisation, that is ready to change the world and I want to give my knowledge to help by working for that dream!
Eveli's primary area of responsibility is conducting FSC and PEFC Chain of Custody audits in Estonia.
Before joining Preferred by Nature Eveli was Sales Manager in the Estonian oldest industrial manufacturer of wooden windows. Besides, she has lectured in Environmental Law and Environmental Policy at TUT Tartu College, Estonia.
Eveli holds BSc in Industrial Ecology and MSc in Environmental Engineering and Management.
Eveli joined Preferred by Nature in 2017.
Skills at a glance
FSC and PEFC Chain of Custody auditing
FSC and PEFC CoC technical support/expertise 
BSc in Industrial Ecology
MSc in Environmental Engineering and Management
Languages spoken: Estonian and English