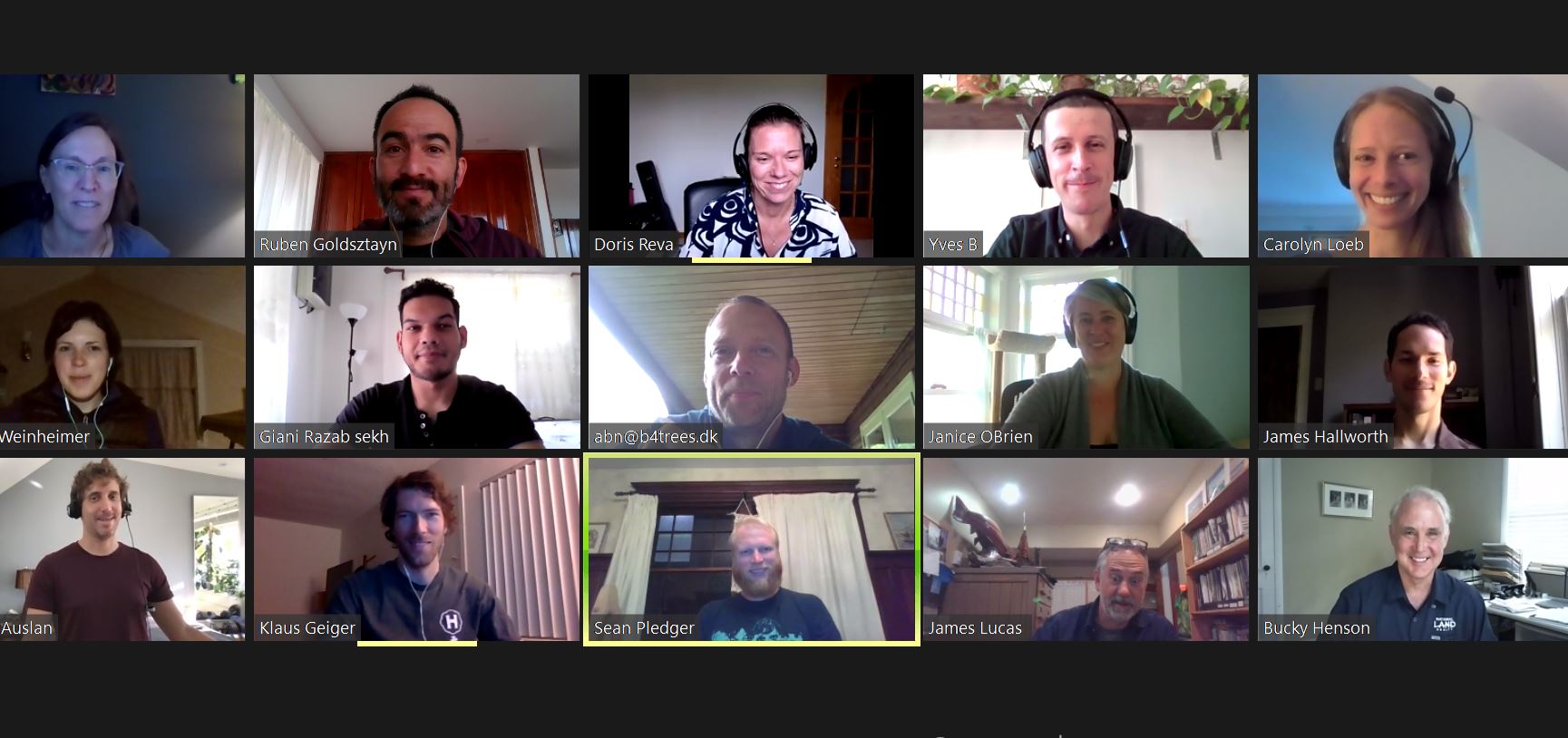 When the COVID-19 pandemic led a rapid transition to the virtual environment, Preferred by Nature jumped on to the online learning bandwagon and harnessed Zoom, Training Hub, and other digital tools for accredited, intensive Forest Stewardship Council™ (FSC) Expert Courses.
In August, Preferred by Nature (formerly known as NEPCon) held for the first time an online edition of FSC Forest Management auditor training. This remote auditor training received an overwhelming response, resulting in the session fully booked within days.
This five-day Expert Course attracted 12 attendees from five countries - US, Canada, Colombia, Suriname, and Denmark. We capped the number of attendees at 12 to ensure all can fully engage in group exercises, discussions and examinations in the virtual classroom.
Creativity in an online course
To offer more flexibility, the course was spread out for four days over 2 weeks and covered the FSC standards and systems for Forest Management certification such as Free, Prior and Informed Consent (FPIC), Ecosystem Services, Stakeholder Consultation, and many more.
Besides creating and maintaining relevant and good quality modules for the Expert Course, the trainers and other team members also injected creativity into the learning modules with a virtual field visit to simulate a physical learning experience. All attendees were required to complete a simulated closing meeting role-play exercise after the virtual field visit.
"The FSC forest management training was well prepared and structured. The course was designed to facilitate the combination of qualitative and quantitative methods with hands-on experience from the participants and instructors. I would recommend the course to those with people or organisations with knowledge of FSC certification or forestry background. The only thing that was missing was an actual forest," said attendee Ruben Goldsztayn, who works as a Senior Project Manager for Land Use and Forest, ForestFinest Consulting, Germany, but was then based in Colombia, his home country, due to the lockdown.
Well-designed and delivered Expert Course
Most attendees viewed this remote learning experience positive, expressing satisfaction for the course structure and flexible self-study online modules on the Training Hub.
Another attendee, Malloree Weinheimer was surprised by the effectiveness and intensity of the course, considering it was Preferred by Nature's first full remote training. "I really appreciate that the course had so much time for exercises with the same group focused on actual audits. Practical and helpful strategy overall for learning the subject matter in a short time," said the forester from Chickadee Forestry LLC, US.
Anders Bjørnkjær-Nielsen, Director of B4Trees Aps, a forest certification consultancy based in Denmark commended the modules. "FSC Forest Management online Expert Course provides insight into all requirements for Forest Management Units (FMUs) across the globe to become certified. I particularly liked the module on Free, Prior and Informed Consent (FPIC) and Ecosystems Services, which I think is highly relevant for Impact Investors."
More online training in the pipeline
We have also recently conducted our first online edition of FSC Chain of Custody Expert Course. Similarly, the course was fully booked.
With global travel still largely restricted, we have decided to organise more online training to fulfil the request of attendees whose original course was postponed or did not manage to attend our remote auditor training held earlier this year. No classroom training will be held until year-end and any traditional classroom training will be rescheduled for 2021.

The next four-day online edition of FSC Forest Management Expert Course will be held at the end of October, spreading over two weeks. All live sessions will be held on 27 and 29 October, 3 and 5 November. As seats are limited, we invite you to register now. 
Our FSC Expert training bring together people from a variety of backgrounds, which lends a unique flavour to these courses. These training sessions are suitable for certified companies, public sector organisations, researchers, non-governmental organisations, consultants and any individual aspiring to become an FSC auditor. Since these sessions are organised virtually, it provides an opportunity for those interested to join in many parts of the globe, if time zone permits. The agenda will be adjusted to reflect different time zones and leaves "rest days" in between – the flexibility a traditional classroom course rarely offers.
We constantly update our Training Calendar. Please check this page regularly for updates.