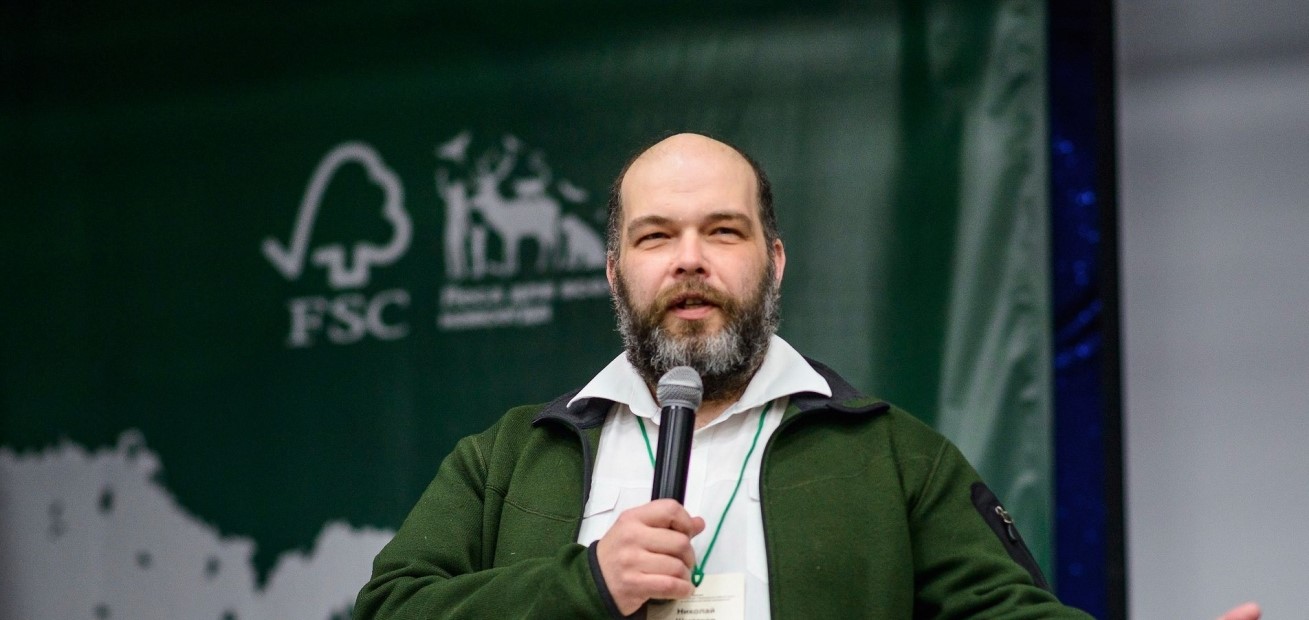 Despite improved efforts to combat illegal logging, Russia's forestry sector continue to struggle with corruption, overharvesting and illegal timber export. Official statistics are not showing the full picture, says Nikolay Shmatkov, Director of FSC Russia. 
 
Lack of enforcement, outdated forest inventories and widespread corruption have made conditions ideal for the trade and export of illegally harvested wood, making Russia one of the world's riskiest countries to source wood from. 
Although new laws and regulations such as the European Timber Regulation (EUTR) and the US Lacey Act have been increasing pressure on foreign companies to enforce due diligence of supply chains from Russia, the situation is far from ideal, says FSC Director for Russia, Nikolay Shmatkov.
Depending on the source, estimates of illegal timber harvesting in Russia tend to vary greatly. While the Russian Federal Forestry Agency placed the figure between 1 to 10 percent in 2017, the real figure is likely to be significantly higher, he says:
"A recent study by the Academy of Sciences based on official reporting came up with 15 percent, which is matching other studies. In reality, however, I believe it is more likely to be double that figure. Illegal loggers are obviously not keen on passing on data to scientists and officials," said Nikolay Shmatkov. 
Regional estimates also differ widely. While European Russia has seen significant improvements in terms of legality, parts of Siberia and the Far East are considered "dark territory" with up to 80 percent of export being illegal. 
"I would say the biggest problem is in the Far East, especially with valuable tree species like oak and ash. The overharvesting could be twice as large compared to what is harvested legally. It is less of a problem in the Russian North West," said Nikolay Shmatkov.
According to the FSC Director, foreign demand for cheap Russian wood is not the primary force driving illegal harvesting, however. Most of it is consumed within Russia:
"Almost every single village in Central Russia has their own timber market supplying wood to locals and small businesses. Nobody knows how much illegal timber is pumped through these small markets," said Nikolay Shmatkov.
Unreliable data are also caused by outdated forest inventories, which in some regions are more than 20 years old. According Nikolay Shmatkov, 85 percent of Russian forest inventories are past their 10 year "sell by date".
FSCTM no guarantee
While FSC certification has been booming in recent years, making Russia the world's number one FSC certified country with 53 million hectares of FSC certified forest, the FSC seal does not guarantee the absence of illegal wood in the supply chain. For instance, sanitary logging, which is used to keep pests and bark beetles at bay, is sometimes used to justify excessive harvesting, which can be impossible for auditors to control.
"Personally I am not confident that all the sanitary logging, which is done by FSC certified companies, is good sanitary logging that makes sense in terms of fighting pests. I am sure all the official paperwork these FSC certified companies are producing is fine. However, there is legality in terms of official documents and there is legality in terms of common sense," said Nikolay Shmatkov.
Roman Verin, Director of NEPCon Russia, is currently leading the work on a risk assessment of Russia's forestry sector. In an earlier version from 2017, Russia only scored 6 out of 100 points, placing the world's largest forest owner at the very bottom of the survey.
"In North West Russia and parts of central Russia, green NGO's have been pushing for improvements for more than twenty years, foreign companies such as IKEA have implemented standards and the government has actually put quite a lot of effort in to fighting illegal logging, including the launch of a new digital database for tracking timber. In the Far East the situation is different, but probably better than five years ago, so I expect Russia will get a better score this time," said Roman Verin.
How to reduce risks
However, companies looking for a Russian supplier should always check if they are certified and if they conduct due diligence in line with for instance EUTR. Larger suppliers and holding companies are usually safer to work with, according to the NEPCon Director. 
"We are not the forest police. Our auditors are trained to identify risks, which they register in their audit reports. In time this process will improve standards and reduce risks, but the risk of illegal harvested wood in supply chains will never disappear entirely, even with an FSC certification," said Roman Verin.
This view is seconded by his colleague Nikolay Shmatkov:
"Companies might have all the right documents, but these illegalities are happening in the forest - not in the paper trail."