Venue
Zoom meeting (registration links are below)
Location
Online (GMT time zone)
Start Date
Tue, 07 Dec 2021
End Date
Thu, 16 Dec 2021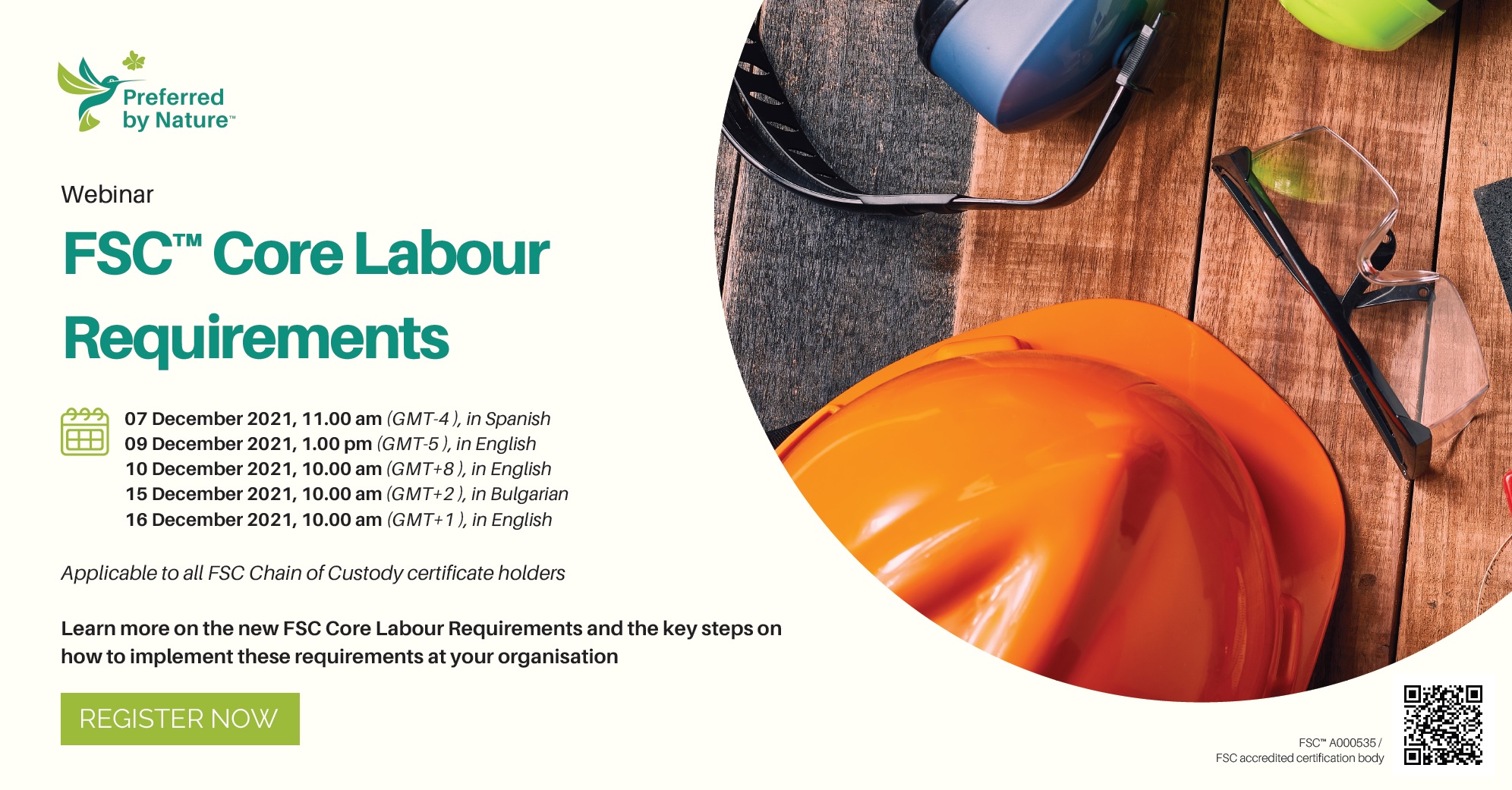 Protecting supply chain workers through enhanced regulations
Are you up to date with the latest FSCTM core labour requirements? What changes would apply to your operation as an FSC certificate holder?
Join this free webinar which will provide you with an overview of the FSC core labour requirements. Presented by a panel of seasoned Preferred by Nature's FSC auditors, the webinar will also illustrate the main steps on how you can implement FSC core labour requirements in your organisation. This webinar is applicable to all FSC Chain of Custody (CoC) certificate holders. 
The event will end with an open Question & Answer session. There will be five sessions of the webinar, choose one that best matches your time zone and language: 
In September 2021, the Forest Stewardship CouncilTM has included the FSC core labour requirements into the revised FSC Chain of Custody (CoC) standard. The FSC core labour requirements include effective abolition of child labour, elimination of all forms of forced or compulsory labour, the elimination of discrimination in respect of employment and occupation, respect of freedom of association and the effective recognition of the right to collective bargaining.
While the protection of workers' rights has always been part of FSC's principles and mandatory for forest management certificates, this new addition to the FSC CoC standard puts workers' rights on the agenda for over 45,000 FSC CoC certificate holders. 
As it can be difficult for certificate holders to grasp the full extent of these requirements, this webinar was designed to walk you through these new additions to the CoC standard. 
The FSC core labour requirements are developed as a result of members and stakeholders having had a common understanding within the FSC system about the application of the principles and rights at work, as defined in the International Labour Organization (ILO) Declaration on Fundamental Principles and Rights at work (1998) and the eight ILO Core Conventions. Click here to learn more.