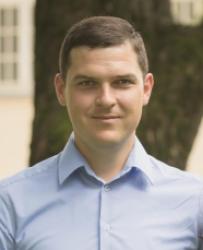 Justinas Janulaitis
Senior Director - Forestry
jjanulaitis@preferredbynature.org
+370 6847 8729
j.janulaitis
Justinas directs and oversees Preferred by Nature certification unit's delivery of all assurance services. He supports business planning, market development and efficient service management across all our offices.
Sustainability services are only valuable if they are delivered on time and in a consistently high quality. Smooth operations are incredibly important and an essential element in securing good customer service across our organisation. Working together with colleagues and clients to achieve that important goal is a great pleasure for me.
Justinas leads the implementation and delivery of certification schemes that Preferred by Nature works with. He acts as the official contact point between Preferred by Naturecertification unit and accreditation bodies of certification schemes and other assurance services.
Justinas is in charge of providing extensive support to Preferred by Nature's offices on all operational matters, from business planning and budgeting to timely service delivery as well as coordination and optimisation across our offices. 
As our Operations Director, he forms part of our top management group. He assumes a key organisational role in ensuring that our assurance services are well-managed and comply with external and internal technical quality requirements, across the entire organisation.   
In addition to this, he is also directing the business activities of our Lithuanian office.
Justinas is a seasoned FSC certification expert. In addition to conducting numerous forest management and chain of custody audits, he is also part of our core expert team conducting high-level FSC Expert training. He also has experience as a technical advisor to Preferred by Nature's international projects.
Justinas has a research background in ornithology, bird ecology and monitoring, He holds a Master's degree in Economy and a BSc in Biology. 
Justinas joined Preferred by Nature in 2006, following his involvement in Preferred by Nature projects in 2005.
Skills at a glance
Business management
Market development  
Client service coordination and management
FSC Forest Management and Chain of Custody auditing and report quality assurance
Capacity building within FSC certification
MS in Economy and BSc in Biology
Languages spoken: Lithuanian, English and Russian
Countries worked in: Lithuania, Latvia, Estonia, Belarus, Bulgaria, Russia, China and Turkey