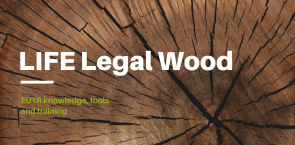 Start Date
Fri, 11 Dec 2020
End Date
Fri, 11 Dec 2020
The workshop aimed to identify the main current needs of Italian wood companies for the correct EUTR implementation. For this reason, a large part of the event was dedicated to an interactive round table, coordinated by a facilitator, where private companies were given the opportunity to present the main critical issues and needs for an adequate implementation of the EUTR. In addition to describing critical issues and needs, participants were invited to propose possible activities to be implemented for improving the EUTR implementation in Italy. Some of these activities can be implemented in the context of the LIFE Legal Wood project, in the form of specific workshops, to be conducted by Etifor and Conlegno in the coming months.
In the workshop the Italian timber companies were represented by the representative of their main trade associations. Also, representatives of the main Italian institutions responsible for the EUTR enforcement, such as the Ministry of Agricultural, Food and Forestry and Carabinieri Police Corps, attended the workshop. In this way, the workshop constituted a very important moment, where the main private companies had to present main critical issues and their needs related to EUTR to all the institutions responsible for the EUTR enforcement in Italy.
Please click the below links for viewing the presentations from the workshop: 
Introduction to the project (English and Italian)
The major barriers for implementation of the EUTR in Italy (Italian)
AGENDA 
Italian workshop for timber operators

9:30 - 9:45

Registration and Connection test

9:45 -10:00

Welcome greetings
Alessandra Stefani (General Director of the National Forestry Department of the Italian Ministry of Agricultural, Food and Forestry Policies).

10:00 – 10:15

Introduction to the workshop
Pietro Oieni (Director of Unit III of General Directorate of Forests, Ministry of Agriculture, Food, Forestry Policies)

10:15 – 10:30

LIFE Legal Wood project presentation
Elisa Colpo (Preferred by Nature)
Nicola Andrighetto (Etifor srl)

10:45 – 11:00

Main critical issues emerged during the EUTR implementation
Angelo Mariano (ConLegno)
Davide Paradiso (ConLegno)

Interactive part
Coordinated by Riccardo da Re (Etifor)

11:00 – 11:45

First part: Most significant critical issues that represent obstacles for an adequate DDS implementation

11:45 – 12:30

Second part: activities that can be undertaken to facilitate the DDS implementation

12:30 – 13:00

Conclusions
Conlegno and Etifor
This workshop was conducted as part of the project 'LIFE Legal Wood' aimed at supporting timber-related companies in Europe with knowledge, tools and training in the requirements of the EU Timber Regulation. Knowing your timber's origin is not only good for the forests, but good for business. The project is funded by the EU LIFE programme.