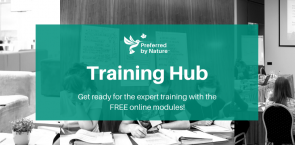 Venue
Maliau Basin Conservation Area
Location
Maliau Basin, Malaysia
Start Date
Mon, 08 May 2023
End Date
Fri, 12 May 2023
Ecosystem degradation has had a profound impact on biodiversity, human health, and economic well-being, with more than 75% of the earth's terrestrial areas substantially degraded. But we believe that there is hope. The UN has declared 2020-2030 as the Decade on Ecosystem Restoration, providing an opportunity to revive the natural world that supports us all. Preferred by Nature is proud to be one of the Actors for this initiative. 
This course will equip you with the knowledge and specific tools needed to support the global effort to restore ecosystems and mitigate climate change. Through a blend of classroom and field exercises in the Maliau Conservation Area and the INIKEA forest rehabilitation project by IKEA, you'll learn about what is at stake and discover how healthy ecosystems can limit global warming.
Our course covers the Preferred by Nature's Ecosystem Restoration Standard with international case studies from various ecosystems. It also explores the key aspects of Carbon projects as Nature-based solutions to climate change and how they connect to ecosystem restoration. You'll gain valuable insights into the world of ecosystem restoration and discover how you can make a real difference in restoring the world's ecosystems.
Join us for this immersive and inspiring training and learn how you can best play yours. With IKEA's support and the stunning setting of the Maliau Basin, this is an opportunity not to be missed.
The training will be held for five days between 8-12 May 2023 in Maliau Basin Conservation Area, Malaysia. Also, there is an opportunity to stay after the training course and take an unforgettable 4 DAYS 3 NIGHTS Excursion "The Wonders of Maliau Basin" (the excursion is optional, you will find the details here). Review the Event Program including the Classroom Course Agenda and get in touch with us asap for more details.
Please note that the course is conducted in English, and we require participants to have sufficient language skills to fully engage in presentations, group exercises, discussions, and examinations.
For our other courses, please take a look at our Training Calendar 2023 or contact us at training@preferredbynature.org.
Course fee and discount options
The cost of participating in this exclusive training event is 2,450 EUR, excluding VAT and the Optional Excursion. The course fee covers tuition, training materials, meal (breakfast, coffee breaks, lunches, and dinners) during the course, logistics from and to Tawau Airport (TWU), accommodation at Maliau Conservation Area, and small excursions during training days. 
Discount options: We offer a special discount of 30% for NGOs, 20x20 initiative, the Global Partnership on Forest Landscape Restoration, partners on the UN Decade, the FAO Task Force on Ecosystem Restoration Best Practices, FSC Network Partners, and university/college staff/students (Code: NGO30). Only a single discount can be applied per participant. All discounts are calculated from the full course fee.
Accommodation and practical information
The training course venue is Maliau Basin Conservation Area. After registering, we will get in touch with you about travel logistics and requirements and provide information about accommodation possibilities.
Register for this course
We look forward to receiving your registration for the course, please fill in the form below.