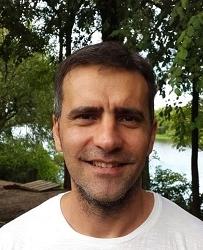 Ariel Zorrilla
Agriculture Senior Manager
Office Manager in Spain
azorrilla@nepcon.org
arielzorrilla
Ariel oversees the overall implementation of NEPCon agriculture certification services, including Rainforest Alliance Sustainable Agriculture Standard, UEBT and UTZ. His responsibilities include, among others, auditing, audit management and coordination in several countries, managing relationships with key clients, certification schemes owners and stakeholders, as well as developing new agriculture schemes for the organisation.  
He also manages our Madrid office. 
Pior to working at NEPCon, Ariel was the Rainforest Alliance Representative in Argentina, university professor and external consultant for various organisations and a global forestry fund.
Ariel brings with him 16 years of experience working with FSC and SAN certification, eco-tourism verification and VCS carbon sequestration verification in South America, Turkey and Central America. Before joining NEPCon, he was intensively trained on pine plantations in South Africa, and on FSC certification in Brazil, Bolivia and the United States of America.
Ariel is an Agronomic Engineer from UNNE (Universidad Nacional del Nordeste) in Argentina. He has passed various experts training course for Lead Auditor on different certification systems he works with.
Ariel joined NEPCon in 2016.
I see the natural resources management as a great opportunity to be performed with a sense of community, seeking to connect the rural people with the markets in various ways. It is very powerful to work together with actors that take smart and responsible decisions to make a positive difference.
Skills at a glance
FSC and PEFC Chain of Custody auditing
FSC Forest Management auditing
PEFC and FSC CoC technical support/expertise 
VCS carbon sequestration auditing
Rainforest Alliance Sustainable Tourism Programme auditing
The Long Run (Eco-tourism) auditing
Rainforest Alliance Sustainable Agriculture Standard Field and CoC auditing
Countries worked in: Argentina, Brazil, Uruguay, Chile, Paraguay, Bolivia, Peru, Colombia, Ecuador, Venezuela, Suriname, Panama, Belize, Republic of Dominica, Turkey, Spain, Croatia, Albania, Bulgaria, Poland, Portugal, United Kingdom, Latvia, Indonesia, and Italy.  
Languages spoken: Spanish, Portuguese and English