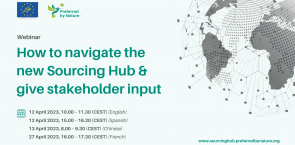 Venue
Zoom (link will be provided in email 1-2 days prior to the webinar)
Start Date
Wed, 12 Apr 2023
End Date
Wed, 12 Apr 2023
Join our upcoming webinar on our newly re-launched Sourcing Hub. Learn how you navigate our new platform and keep yourself updated on risk relevant to your supply chain, as well as easily ask questions and provide feedback on the available risk data.  
Preferred by Natures Sourcing Hub is a database providing open-source risk data for deforestation related commodities and solutions on addressing these risks. 
We value input on our risk data from stakeholders at any time. In addition to the introduction to our re-launched Sourcing Hub, we will show you how you can engage in the risk assessment development, and how to keep yourself updated whenever risk data is added or changed. 
The webinar is set to take place on 12th of April 2023 from 10.00 – 11.30 CEST via Zoom. 
Please register below to secure your spot. Due to limited availability, registrations are handled on a first-come, first-served policy. If you have any questions, please contact Julie Thirsgaard Hansen (jhansen@preferredbynature.org).
AGENDA
Introducing the re-launched Sourcing Hub
Save supply chains and keep yourself updated
Stakeholder feedback and engagement – how to and why
The Sourcing Hub going forward
Q&A
This webinar has received support from the LIFE Legal Wood project implemented by Preferred by Nature and partners. The LIFE Legal Wood project is funded by the European Union's LIFE programme.