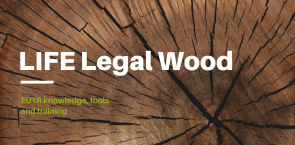 Start Date
Wed, 31 Mar 2021
End Date
Wed, 31 Mar 2021
This webinar wiil address the issue of the legality of wood and paper products.
This webinar is free of charge. It is additional to the February/March workshops on the EUTR in general. The aim of this extra session is to present on:  
Current legislation to legally manage materials and prevent risks and penalties;
Forest certifications to ensure safe and sustainable management of raw materials;
Legnok tools and the role of the consultant to support businesses.
Please follow this link to register for the event. 
This workshop was conducted as part of the project 'LIFE Legal Wood' aimed at supporting timber-related companies in Europe with knowledge, tools and training in the requirements of the EU Timber Regulation. Knowing your timber's origin is not only good for the forests, but good for business. The project is funded by the EU LIFE programme.