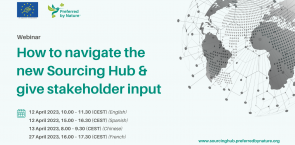 Venue
Zoom - Se enviará el enlace por e-mail 1-2 días antes del evento
Start Date
Wed, 12 Apr 2023
End Date
Wed, 12 Apr 2023
Únase a nuestro próximo seminario web sobre nuestro recién re-lanzamiento del Sourcing Hub. Aprenda cómo navegar por nuestra nueva plataforma y manténgase actualizado sobre los riesgos relevantes para su cadena de suministro, plantee preguntas y proporcione comentarios sobre los datos de riesgo disponibles.
El Sourcing Hub de Preferred by Nature es una base de datos que proporciona datos de riesgo de código abierto para productos relacionados con la deforestación y ofrece soluciones sobre cómo abordar estos riesgos.
Valoramos los comentarios de partes interesadas así como recibir datos y evidencias suplementarias en la designación de riesgos en cualquier momento. Además de la introducción a nuestro Sourcing Hub, le mostraremos cómo puede participar en el desarrollo de la evaluación de riesgos y cómo mantenerse actualizado cada vez que se agregan o cambian datos de riesgo. 
 
El seminario web se llevará a cabo el 12 abril 2023 desde las 15.00 – 16.30 CEST a través de Zoom.
Por favor, regístrese a continuación para asegurar su plaza. Debido a disponibilidad limitada, los registros se gestionan por orden de llegada. Si tiene alguna pregunta, póngase en contacto con Julie Thirsgaard Hansen (jhansen@preferredbynature.org).
AGENDA
Presentamos el re-lanzamiento del Sourcing Hub
Opción de guardar datos sobre cadenas de suministro y mantenerse actualizado
Retroalimentación y participación de las partes interesadas: cómo y por qué
El Sourcing Hub mirando hacia el futuro
Preguntas y respuestas
This webinar has received support from the LIFE Legal Wood project implemented by Preferred by Nature and partners. The LIFE Legal Wood project is funded by the European Union's LIFE programme.