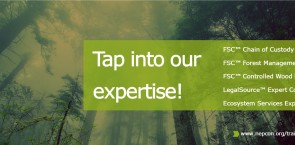 Start Date
Wed, 16 Sep 2020
End Date
Wed, 16 Sep 2020
Focused topics
Morning: introduction and overview of the COC system
Introduction and short overview of NEPCon

FSC (and PEFC) systems (credit, percent, transfer)
After lunch
Outsourcing, trademark, multi-site, reclaimed inputs

Differences in PEFC

FSC Controlled Wood
This seminar is conducted in Estonian language. Please ensure that your language skills will allow you to fully engage in discussions.
Who should attend?
The seminar gives a good opportunity for the new Chain of Custody responsible people to get more knowledge about FSC and PEFC systems. It is also valuable training for more experienced people to renew their knowledge. Please note that the seminar is opened to everyone, including existing clients, and no company-specific solutions will be provided. 
Seminar fee
The cost of participating in this seminar is 75 EUR per registered person, excluding VAT. The seminar fee covers tuition and materials.
Accommodation and practical information
The seminar will take place online at web platform Zoom. 
Registration
We look forward to welcoming you to the seminar. To register, please fill in the form below.
For other training events and our more in-depth Expert Courses, please take a look at our Training Calendar for 2020 or contact us at training@nepcon.org.