Body
To find locally adapted FSC forest management standards, follow the guidance and links below.
Note: Depending on your type of FSC certificate, there are other, more specific documents that you also need to be aware of.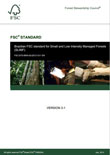 FSC-endorsed national and regional
forest management standards
The FSC International Center has endorsed a number of national or regional FSC forest management standards. Based on the FSC Principles & Criteria, these standards are developed through inclusive, multi-stakeholder processes. Where regional or national FSC standards exist for a country, we conduct all FSC forest management assessments against these requirements. 
Find and download national FSC-endorsed standards (select "National Standard" under type of documents)
In countries where no FSC-endorsed forest management standards apply, we use our own-developed interim standards. These are based on our own generic standard and are developed in a multi-stakeholder process.