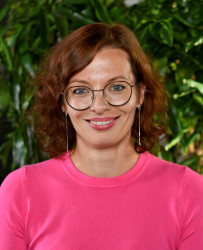 Anna Cygan
Specialist, Certification Services
acygan@preferredbynature.org
+48 605 032 532
anna.cygan.nepcon
Anna's areas of work include customer service, accounting assistance and several administrative tasks covering translation and mass email communication.
Consumer awareness of credible eco-labelling is growing. Using eco-labels is a great opportunity for responsible companies to gain advantages on competitive markets.
Anna provides the highest-quality service to Preferred by Nature clients in Poland. She is also in charge of several accounting tasks for the Polish office. 
In addition, Anna coordinates translation and mass email communication for the whole organization. Moreover, she assists in the process of reviewing and negotiating legal agreements. She is an approved FSC Trademark Expert.
Anna joined Preferred by Nature in 2009.
Skills at a glance
Customer service
Accounting assistance
Translation and mass email coordinator
FSC Trademark Expert
MS in Environmental Engineering 
Languages spoken: Polish and English