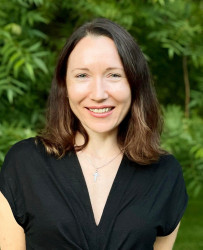 Olga Polyachenko
Senior Training Programme Specialist
opolyachenko@preferredbynature.org
+37253659807
polyachenko.olga
Olga provides assistance to our Training Coordinator in a wide range of issues related to preparation and organisation of Preferred by Nature's training services.
While working on a university project focused on the economic impact of FSC Forest Management certification in Russia and interviewing forest industry companies, I realized that forest certification has significantly helped companies to improve their forest management practice and raised it up to an internationally acknowledged level. I am happy to work in an organisation that has been contributing to this process, and in doing it, among many other things, always sets a high bar.
Since 2018 Olga is a member of Preferred by Nature's training team, assisting the Training Coordinator in coordinating the trainings, and helping with organisational and marketing issues related to our training services (FSC FM, FSC CoC, FSC CW and LegalSource). She also helps Preferred by Nature trainers prepare training material when it relates to translation from English to Russian or making material available for trainees on the Preferred by Nature online training platform. Besides that, Olga keeps our Russian website updated.
Olga holds an MSc in Forest Management from the Swedish University of Agricultural Sciences. She has been involved in projects connected to forest certification issues since her university time. Olga defended her final thesis about the economic impact of FSC forest certification in Russia.
She has been assisting Preferred by Nature since 2014, providing practical support to various Preferred by Nature specialists from different countries. Among other things, she has reviewed timber legality related documentation from Russian forest industry suppliers, and has been involved in Preferred by Nature's project on Responsible Sourcing and Timber Legality.
Skills at a glance
Lead auditor training in FSC FM and FSC CoC in 2007

Good knowledge of FSC forest certification structure and impacts

BSc in Forestry

MSc with a major in Forest Management  

Languages spoken: English, Russian and intermediate level Estonian