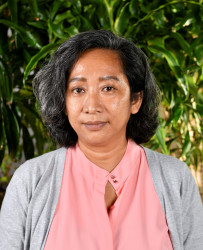 Kiswara Santi Prihandini (Kiswara)
Programme Development Specialist
ksprihandini@preferredbynature.org
+62361-472 3499
+62 87 861 935 303
Santi.Prihandini
As a Programme Development Specialist, Kiswara works together with the division to coordinate with project partners and organisations, support a technicality for project development and intervention strategy design, and support the implementation within project management cycle. She is also the go-to person in engaging, liaising and nurturing ideas with strategic stakeholders in the Preferred by Nature team.   
I have 20 years of experience in an international development agency. Over the years, I have been working with hundreds of partnerships, in particular engagement with civil society organisations, government agencies, positive- companies and community-based organisations.
I have learnt that people can change when they are surrounded by systemic change, a highly motivated and dedicated network, concrete examples and active learning, sufficient support and appreciation for the tireless efforts, but also to enjoy the journey for change. To enjoy the journey of change is also what motivated me to join Preferred by Nature. I felt engaged with the vision of 'Human choices must ensure a sustainable future.'
The word 'choices' is also the outcome of enabling the environment for people by culture and policy, and for some reason, people-led initiatives are becoming more powerful in the near future. 
Preferred by Nature with the supporters aim to support better land management and business practices that benefit people and nature, which is also part of my previous experience and want to leverage my knowledge and skills on how to adapt to climate change.
Kiswara is involved in strategic project development-related work and partnerships. She also supports Preferred by Nature's commodities' potential project development in terms of partnerships, technical aspects and fundraising, while identifying more opportunities in the country and at the regional level. 
Aside from these, Kiswara is the contact person for project development in Indonesia. 
Kiswara joined Preferred by Nature in December 2022.
Skills at a glance
Working experience with Civil Society Organization 
Project management cycle
Social inclusion, Human Rights, Democracy and Feminism principles incorporation 
Project ideas, connecting the dots, multi-stakeholder partnerships 
Nexus of environment, humanitarian and development 
Programmatic approach with people at the centre for development