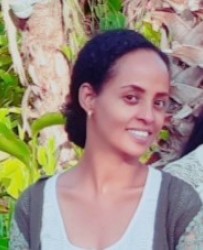 Eyerusalem Tesfaye
etesfaye@perferredbynature.org
+251 913 069 716
Eyerusalem Tesfaye
Eyerusalem serves as a Lead Auditor and Task Manager, with a focus on Sustainable Agriculture services. 
After many years of working directly in the agriculture sector and from farm audits, I had the opportunity to interact with groups of farmers, exporters, and people in diverse professional settings. For this reason, I am seeking to leverage my experience in the agriculture sector to utilise my experience to create a better opportunity for the farmers and the people who are working under this scheme. This organisation is working to support better land management and business practices that benefit these people, so I will add value to this purpose and expand my experience in this area. 
As an Agriculture Specialist in Preferred by Nature, Eyerusalem coordinates client portfolios, audits & auditors, as well as conducts audits for the organisation's agriculture services. This includes audit scheduling, on-site visits, report writing, quality control, stakeholders networking and delivery of customer service.
Skills at a glance
RA SAS auditing
MA in development economics, BSC in Economics
Proficient in English and Amharic