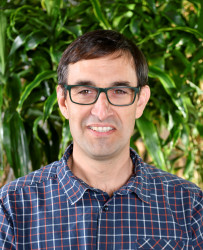 Pablo Rodríguez-Noriega
prnoriega@preferredbynature.org
0034 629341887
pablocole
Pablo is in charge of developing and maintaining carbon projects validation and verification services, including acquiring relevant accreditations and approvals.
In the current context of changing world (climate change, population increase, migrations, pandemics,…), the role of ecosystems and their management is key for the future of our planet. In our organisation, we contribute to improve this role participating, in an active manner, in the process to ensure that good practices are being implemented, looking for nature-based solutions.
Pablo has worked on forest management planning since 2003 and in the forest carbon sector since 2006. He started working on forest carbon projects in Costa Rica, where he stayed for 3 years, working for CATIE and for the BioCarbon Fund (World Bank) in the framework of the Afforestation/Refforestation sector under the Clean Development Mechanism (CDM). Back to Spain he continued working, in his own company (Agresta S. Coop.), on forest carbon projects.  
He has worked for more than 10 years as forest carbon consultant leading a team of experts in an international context in Africa, Asia and LATAM, working for the most important portfolios of the sector (Bio CF, FCPF, Livelihoods Fund, …) mainly on AR, IFM and REDD + projects (CDM, VCS-VERRA, CCB,…).
Pablo has participated in the development of the carbon footprint standard "Huellacero" and has led a team working on carbon footprint projects. He has also delivered forest carbon trainings and has participated in several scientific and technical publications. 
Pablo has a MSc in Forestry Engineering by the Polytechnic University of Madrid (Spain) and a Master's degree in Timber Construction. He has gathered additional qualifications through comprehensive continuing training.
Pablo joined Preferred by Nature in 2022.
Skills at a glance
Forest Carbon Projects (CDM, VCS, CCB, FCPF, ...)
Forest Management Planning
Carbon Footprint (Spanish registry, Huellacero, GHG protocol, ISO 14064 and 14067)
Carbon Emision Reduction Projects (CDM, FES CO2, ...)
MCs in Forestry and Master's degree in Timber Construction
Languages spoken: Spanish and English
Countries worked in: Costa Rica, Guatemala, Nicaragua, Perú, Colombia, Chile, Argentina, Senegal, Mali, Madagascar, and Indonesia.