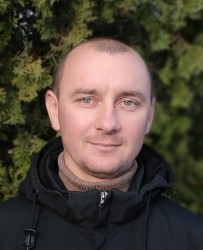 Leonid Lunachevskiy
llunachevskiy@preferredbynature.org
+380996887145
Leonid Lunachevskiy
Leonid is responsible for conducting FSC Forest Management, Chain of Custody and Controlled Wood audits in Ukraine.
I am convinced that sustainable use of natural resources is the way to save our planet, and I want to make my own personal contribution along this way by working for Preferred by Nature.
Leonid graduated from the Forestry Department of Kharkiv National Agricultural University, Ukraine.
After graduating from his postgraduate degree at the Ukrainian Research Institute of Forestry and Forest Melioration, he worked at the institute for more than 10 years; most recently as a researcher in the forestry laboratory. He is a local expert in FSC certification and auditing in Ukraine.
Leonid joined Preferred by Nature in 2019.
Skills at a glance
FSC and PEFC Chain of Custody auditing

Forest Management auditing

Languages spoken: Ukrainian, Russian and English