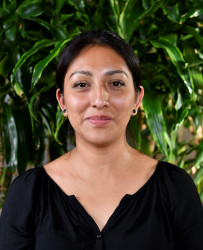 Maricela Lopez Benitez
mlopezb@preferredbynature.org
9515026473
9515487838
Maricela Lopez
Maricela is responsible for uploading signed contracts of audit into the Salesforce system. She is also in-charge of overseeing and receiving invoices, and performing other day-to-day tasks including managing travel reservations and updating the list of FM and CoC clients, among others.
I am interested in becoming part of this organisation to provide better service to all customers to ensure they meet the demands of the market.
Maricela advises new clients about certification services. She also monitors their progress in obtaining the certification and provides other information such as date of audit for clients and their payment status.
She joined Preferred by Nature in 2018.
Skills at a glance
Technical and communication support

Languages spoken: Spanish and English