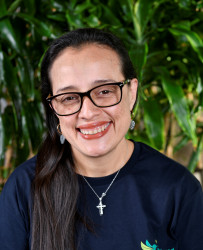 Ailin Salguero de López
Certification Support
Specialist
asalguero@preferredbynature.org
(+502) 2213-8750
asalgueros
Ailin is responsible for certification administration support on FSC certification services and she also serves as the global support for Regional Offices for trademark-related issues. 
I really like working with proactive teams that strive for excellence in what they do. Preferred by Nature keeps us united and I love it.
Ailin provides support on the delivery of FSC certification services and as a Trademark Expert; she serves as the global support for regional offices and partners on Trademark requirements, as well as supports the development and maintenance of policies and procedures, templates and training modules related to trademarks.
Ailin has a degree in Educational Technology for Bilingual Education. She joined Rainforest Alliance in 2005 until her integration to Preferred by Nature in October 2018.  
Skills at a glance
FSC Certification Administration  
FSC Trademark Agent 
Rainforest Alliance Certified™ Seal Agent
Languages spoken: Spanish and English