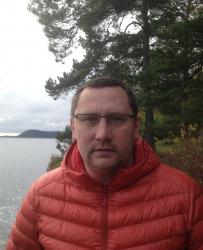 Roman Verin
Regional Director, Russia and CIS
rverin@preferredbynature.org
+7 911 657 11 15
roman.verin
Roman is the "business architect" of Russian office. His efforts are aimed at improving our service quality, creating visibility on new markets, and improving public relations including building our relations with Russian NGOs and public authorities. Roman is also a timber legality expert.
In the early 21st century, I witnessed how NEPCon in collaboration with the Rainforest Alliance helped change the philosophy of forest management in Russia. Now I'm happy to be part of this professional team and help to foster responsible management of the Earth's resources.
The role of Roman is to ensure that Preferred by Nature significantly expands its role in Russia beyond FSC certification, for example by strengthening our relations and broadening our collaboration with the authorities and NGOs. He is involved in the process of acquiring PEFC forest management accreditation and in improving the quality of our FSC certification services.
Since 1999, Roman has associated with the work on the development of certification in Russia. Until 2007, he worked as the head of the forest certification department of the Arkhangelsk region administration. During this time, the Arkhangelsk region was recognised as a leader of forest certification in Russia and as a centre of development and implementation of advanced methods of responsible forest management.
During the period 2008-2009, Roman participated in a Swedish investor project to create a new logging company with a leased forest area of more than 1 million hectares. Here, he worked as First Deputy General Director until 2013. During this time, he created a start-up enterprise certified to FSC standards, which helped to conserve valuable forest ecosystems and introduced modern methods of effective and responsible forest management in the licensed area.
Roman joined Preferred by Nature in 2013.   
Skills at a glance
Business and organisational development
Marketing and PR
Key account management
Public relations including networking with authorities and NGOs
Analysis and assessment of projects on the legality of wood
Languages spoken: Russian and English