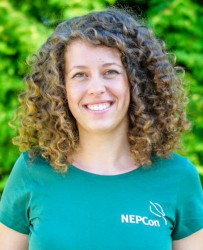 Marcela Sucala
msucala@preferredbynature.org
+40 742 011 045
manmarcela91
Marcela is a Preferred by Nature auditor from Romanian office whose role is to provide certification services and to facilitate the development of FSC certification schemes in Romania. Her responsibilities include auditing, translating, marketing activities and providing FSC Trademark services.
Reforesting the earth is possible, given a human touch.
She passed Preferred by Nature's training courses for FSC Chain of Custody, FSC Forest Management certification and RSPO Chain of custody.
 
Marcela graduated Environmental Sciences and Engineering Faculty, followed by a master degree in Environmental Management and Protection. Currently she is continuing her studies in Forestry Faculty. Her previous work as a research assistant and translator for biodiversity conservation research projects started in 2013. Since 2014 she became an active member of EnviroTeam Association, an NGO founded in close collaboration with Environmental Sciences and Engineering Faculty in order to promote youth involvement into environmental protection activities.
Marcela joined Preferred by Nature in 2014.
Skills at a glance
FSC and RSPO Chain of Custody auditing
GIS processing
Management of protected areas
Biodiversity research
Environmental assessment
Life+ projects
Languages spoken: Romanian, English