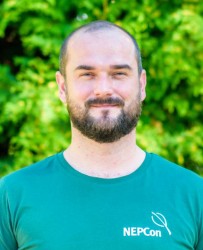 Tudor Serban
Partners Relationship Specialist
tserban@preferredbynature.org
+40 751933523
Tudor is working as a Partners Relationship Specialist and is committed to helping Preferred by Nature build strong, sustainable relationships with its partners. Prior to this role, Tudor supported the development of the Romanian office and worked as an Auditor, specializing in certification activities, performing chain of custody and forest management auditing, coordination, and monitoring, as well as marketing and promotional activities. 
I am incredibly grateful that Preferred by Nature has equipped me with the knowledge and tools I need to make a meaningful contribution toward creating a sustainable world.
Tudor has a Bachelor's degree in Environmental Engineering, a Master's degree in Environmental Management and Protection, and a second Bachelor`s degree in Forestry. He has worked on biodiversity projects and he is well-equipped to help organizations achieve their goals and grow their businesses in a sustainable way. 
He has been working with Preferred by Nature since 2014
Skills at a glance
Marketing, clients and partners care
FSC/PEFC Chain of Custody auditing
FSC Forest Management auditing
Biodiversity research and monitoring
Languages: Romanian, English