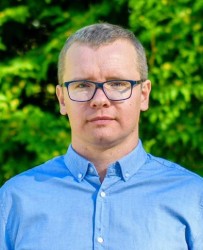 Asko Lust
Senior Assurance Innovation Lead
alust@preferredbynature.org
+372 738 0723
+372 556 53 894
asko.lust1
Asko serves as the Deputy Director of our Traceability Department, covering both European and Russian regions. He is also an FSC and PEFC Chain of Custody and Forest Management (FSC) Lead Auditor. 
In his new role as the Deputy Director of our Traceability Department, Asko manages a team of auditors. He wears many hats in Preferred by Nature: besides the roles above, he is also a PEFC Chain of Custody Lead Auditor. He conducts SBP auditing. In addition to his extensive auditing experience, Asko has expertise and experience in the use of trademark. He provides trademark support for Preferred by Nature auditors. 
His other duties include monitoring the ongoing FSC Chain of Custody certificates. He also serves as the point of contact for CoC auditors and consultants. 
Asko has extensive experience in forest management and the timber industry. He studied Forest Industry and holds a Master's degree in Forest Management. 
Previously, Asko worked within the Estonian Environmental Board.
He has been with Preferred by Nature since 2011.
Skills at a glance
FSC and PEFC Chain of Custody lead auditing
Strong experience in forest management and the timber industry
BSc Forest Industry
MSc in Forest Management from 2013
Languages spoken: Estonian and English