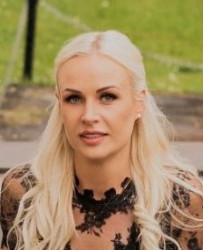 Elīza Stokmane
estokmane@preferredbynature.org
+37125511110
e_stokmane
Eliza supports Preferred by Nature's forestry team in carrying out sustainability audits for organisations across the country.
It is important for me to work in an organization whose vision is to make a world where human choices ensure a sustainable future. It motivates me more and more to be a part of it because it's worldwide and we can share our experiences, observations, and analysis with our colleagues and find new solutions for different situations. 
As a Supply Chain Specialist in Preferred by Nature, Eliza's main responsibilities are to manage and conduct Forest Stewardship CouncilTM (FSCTM) / Programme for the Endorsement of Forest Certification (PEFC) Chain of Custody (CoC) audits in Latvia. 
Eliza is also assists with market development for Preferred by Nature's certification services in the country.
Skills at a glance
Bachelor's degree in Forest Science
Languages spoke: Latvian, English, Russian
Good communication skills