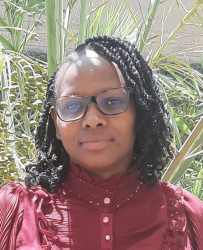 Violah Seroney
vseroney@preferredbynature.org
+254729418122
seroviolah
Violah performs high quality audit service to current Rainforest Alliance Sustainable Agriculture Standard and other certification schemes portfolio in East Africa through management of Salesforce database, fieldwork audits and Peer reviews. 
I believe it is our current role to ensure sustainability in all we do; be it industrialisation, agriculture, forestry etc. Preferred by Nature gives me an opportunity to participate in activities working towards supporting and ensuring the planet does not only benefit us now but also benefits future generations.
As part of her duties in Preferred by Nature, Violah provides certification administration services support for activities related to Agriculture and other verification services in the region, including the preparation of services proposals, and job execution. She also maintains Preferred by Nature's audit management database with the timely entry of audit milestones and required documentation.
Aside from these, Violah provides customer service for the region, including, but not limited to, providing general information about Preferred by Nature services, guidance documents related to certification processes, and the guidelines for the Rainforest Alliance and other schemes logos and seals.

She also coordinates with RA SAS and other schemes and the regional quality points of contact to ensure the quality and validity of official documents and support the global publication of such documents for Preferred by Nature.
 
Skills at a glance
Lead auditor- Rainforest Alliance, Cotton Made in Africa (CMiA) and CAFE Practices.
Trained in ISO 9001:2015, ISO 17065, SA 8000 and Certification of Organic Products by 3rd Country Control Bodies according to EC 834/2007 EC 889/2008 EC 1235/2008.
Internal audits based on ISO 17065 
Communication (Fluency in English and Swahili)
Audit planning and administration
Customer service
Auditing and reporting
National Environment Management Authority (NEMA) registered ESIA/EA expert
Academic background- BSc Management of Afroecosystems and Environment