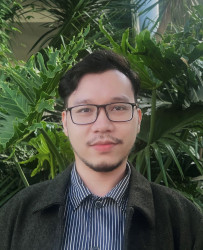 Nguyen Thanh Trien Lam (Liam)
Forestry Supply Chain Specialist
lnguyen@preferredbynature.org
+84911607318
Nttlam098_1
Liam is responsible for planning, conducting and managing the chain of custody audits within the standards of the Forest Stewardship Council™ (FSC™) and the Program for the Endorsement of Forest Certification (PEFC) for Preferred by Nature's clients in Vietnam.
I am determined to set forth on my journey at Preferred by Nature deliberately to enhance my knowledge in the forestry sector, sharpen my competencies as well as polish my soft social skills, which will pave solid stones for me on the way to achieving a successful career path. I am proud to be part of Preferred by Nature's profound missions.
Liam has been working in strategic demand & supply planning with 5 years of hands-on experience in optimising operations for international corporates in the timber industry. 
As a forestry supply chain specialist in Preferred by Nature, Liam ensures the smooth and efficient workflow for FSC – PEFC assessments throughout the designated timeframes with the aim of providing our clients with comprehensive and reliable support.
Skills at a glance
FSC and PEFC Chain of Custody auditing
Languages spoken: Vietnamese and English