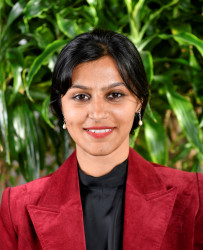 Meenakshi Piplani
Sustainability Framework Specialist
mpiplani@preferredbynature.org
37251942746
meenakshipiplani
As a member of the Sustainability Framework Programme, Meenakshi is involved in benchmarking existing forest and farm certification standards against the Sustainability Framework by identifying gaps in the schemes. 
It is a pleasure to work at an organisation that believes in holistic environmental, social and economic development of the forest and agriculture sector through robust and dedicated global work on improving supply chains, communication of product sustainability and harvesting of the product itself.
Meenakshi is responsible for benchmarking various forest and farm certification standards such as the Forest Stewardship Council (FSC) Chain of Custody, FSC Controlled Wood, Roundtable on Sustainable Palm Oil (RSPO), and EUDR against the Preferred by Nature Sustainability Framework. This process concludes with a detailed and executive summary consisting of key takeaways for each standard in a report.
Aside this, Meenakshi also provides overall assistance with developing the Sustainability Framework programme. This includes writing procedures and guidelines.
Skills at a glance
Certified LegalSourceTM Assessor for legal timber 
Benchmarking sustainability standards (FSC, RSPO, EUDR) 
Evaluation of gaps and knowledge of the Sustainability Framework
M.Sc. Sustainable tropical forestry and Environmental management 
Language skills: 
Hindi (5), Sanskrit (4), English (5), German (3), French (2), Danish (1)