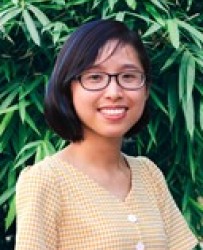 Nga Nguyen Thi
Land Use Agriculture Auditor
ngant@preferredbynature.org
(+84) 36 541 6299
Nga Nguyen
Nga work as a task manager and an auditor for Preferred by Nature's agriculture services - mainly in Vietnam such as the Rainforest Alliance, UEBT, and SRP.
I feel genuinely happy to be a part of Preferred by Nature to take advantages of specific knowledge and working experience to contribute towards sustainable agriculture and community development.
As a Land Use Agriculture Auditor in Preferred by Nature, Nga's responsibilities include carrying out all aspects on the audit process and performing administrative tasks. She is also involved in supporting the Agriculture market development for Preferred by Nature's certification services in Vietnam. 
Nga graduated from Vietnam National University of Agriculture with the major of Science of Crop Science in 2013. Following that, she worked for mostly international NGOs, related to agriculture and community development. 
In her previous positions, Nga was directly involved in conducting surveys, developing project plans, implementing and monitoring project activities in production and business. On top of that, Nga also has experience working with local authorities, agriculture and tourism businesses, as well as farmers - especially those of ethnic minorities.