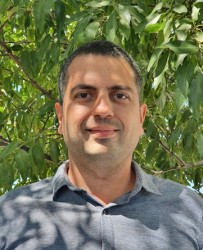 Burak Yüksel
byuksel@preferredbynature.org
+905547630265
burakyuksel87
As an Agriculture Auditor, Burak carries out agricultural audits in the relevant schemes according to the scheduled plan. He reports the Agriculture Specialist based in Kosovo. 
Working in the Agriculture sector and Social Standards while helping farmers and nature increases my work motivation. I enjoy my work as it allows me to contribute to achieving global alignment of sustainability, human health and welfare as well as food safety for the future.
Burak's main responsibilities in Preferred by Nature is to conduct Rainforest Alliance and UEBT audits for our portfolio of clients in Turkey.
Aside that, he also develops and maintains strong technical expertise in Agriculture Certification Schemes' along with Preferred by Nature policies, standards and protocols in Turkey. 
Burak has been part of Preferred by Nature since September 2021. 
Skills at a glance
Bachelor's degree in Agricultural Engineering
Proficient in Turkish and English.