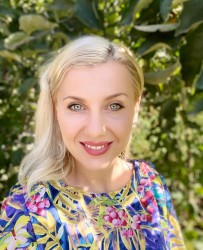 Silvia Botha
Chain of Custody Coordinator and Supply Chain Specialist
sbotha@preferredbynature.org
+40 757 102 313
Silvia M
Silvia is a Traceability Auditor in Romania. Her responsibilities include, but are not limited to carrying out audits, managing clients' portfolio, handling customer service, as well as other marketing and sales activities.
I believe in every small positive impact that anyone can make to better the environment. I am thrilled to be part of the Preferred by Nature team, whose values I truly admire and share. My ambition is to use my experience, knowledge and contacts to contribute to the success of Preferred by Nature's mission.
Silvia graduated with a Degree in Natural and Anthropogenic Systems Protection. She is currently undertaking her PhD, focusing on the study of a cherry orchard farming.
She has more than 8 years' work experience, including a previous stint in a consulting firm. Silvia has also been managing her own consulting firm for the last 4 years providing expertise in wood waste management and wood packaging traceability.
Silvia joined Preferred by Nature in 2020.
Skills at a glance
Wood waste management

Wood packaging traceability

Romanian environmental legislation 

Languages spoken: Romanian, English and German