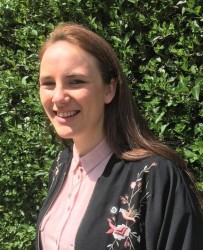 Rosie Sibley
Senior Sustainability Specialist
rsibley@preferredbynature.org
Rosie provides advisory services to a global portfolio of clients in the timber sector and beyond to support them in sourcing legal and responsible wood sources. This includes delivering risk assessment and mitigation activities, to meet the EU Timber Regulation (EUTR) and sustainability criteria.
Forests are key in mitigating the worst impacts of climate change and sustaining vital ecosystems. Supply chains are ever-increasingly diverse and complex. I enjoy working with companies to unpick the complexity in their supply chains to provide them with expert advice and solutions to drive forward responsible supply chains across forest-impact commodities.
Rosie supports companies with Preferred by Nature's ResponsibleSource service to map and assess risk in supply chains on forest-impact commodities, including oil palm, soy and beef. In addition, she also delivers external capacity building training.
Rosie began her career with a sustainability consultancy, working with a UK food retailer to build a more sustainable supply chain. In this role, she worked with the client and their suppliers to understand sustainability challenges and how to best develop solutions. Rosie has also worked for environmental NGOs, including Global Canopy, where she assessed the role of financial institutions and corporations to ensure greater transparency in addressing deforestation.   
Rosie has an MSc in Nature, Society and Environmental Governance from the University of Oxford and graduated with a first class honours degree in geography from the University of Sussex. Rosie has completed research in the Brazilian Amazon on developing sustainable livelihoods.
Rosie joined Preferred by Nature in 2019.
Skills at a glance
Due diligence systems, risk assessments and supply chain verification and management

Timber legality: EUTR & LegalSource assessor

Supply Chain management

ResponsibleSource assessor

MSc in Environmental Governance

Languages spoken: English