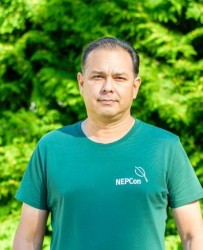 Rolyn Medina
rmedina@preferredbynature.org
591 333 25042
591 691 11792
rolyn-medina
Rolyn supervises the development of auditing services. He also oversees the team that provides FSC Certification services to Preferred by Nature clients in South America.
My job allows me to interact with experts from forestry industry and conservation. My main motivation is to know that we are contributing to sustainable management and commercialisation of natural resources through trusted and independent evaluation processes sheltered by a serious and prestigious organisation such as Preferred by Nature.
Rolyn is in-charge of monitoring certification activities, as well as managing and promoting FSC certification services within the region. His other duties include:
Supporting senior manager in marketing activities to identify and engage potential clients

Providing support for Preferred by Nature training services

Providing technical support to specific Preferred by Nature projects within the region
He is responsible for the overall Preferred by Nature forestry services in South America. Prior to joining Preferred by Nature, he worked on risk assessments for the forestry industry. He joined the Rainforest Alliance in 2003. In this role, he carried out FSC audits and other evaluation processes for forest management and chain of custody.
Rolyn joined Preferred by Nature in 2018.
Skills at a glance
FSC FM and Chain of Custody/Controlled Wood audits

FSC FM and CoC/Controlled Wood and technical support/expertise 

Legality auditing 

Risk assessment and chain of custody management

Forest engineer, specialising in Community Forestry

Countries worked in: Argentina, Bolivia, Colombia, Perú, Chile, Ecuador, Venezuela, Uruguay

Languages spoken: Spanish and English