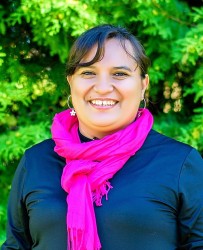 Gabriela Gutiérrez P.
Certification Support Manager, Americas & Africa
ggutierrez@preferredbynature.org
591-3-3325042
591-76073388
gabriela.gutierrez08
Gabriela is responsible for the data integrity of Preferred by Nature's certification and verification services data in internal Salesforce database.
I have always believed that development in harmony with the environment is possible and it is through Preferred by Nature that I can achieve these objectives with clear procedures in forest certification schemes, sustainable agriculture and sustainable tourism plans, activities that are executed with a strong socio-environmental component of management and whose result brings positive change in the perception of our responsibility as consumers who care of the environment.
Working with a team with a similar objective is motivating because the sum of our isolated actions can achieve a positive global change.
Gabriela provides administrative support for agriculture and forestry certification services. She is also responsible for reviewing and approving the use of a certification trademark (RA and FSC) by certified clients in South America.
Her other duties include coordinating FSC processes and providing customer service to clients in the region. Gabriela has a Forest Engineering degree. Prior to joining Preferred by Nature, she worked for Rainforest Alliance since 2008.
Gabriela joined Preferred by Nature in 2018. 
Skills at a glance
FSC certification administration

SAS certification administration

Verification services administration

RA and FSC trademark approval 

Languages spoken: Spanish and English