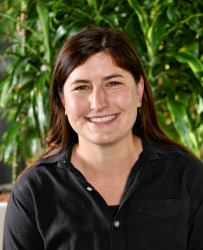 Brittany King
Specialist, Supply Chains
bking@preferredbynature.org
Britt manages a portfolio of clients in western US and Canada that work with FSC Forest Management and Controlled Wood Standards and FSC/PEFC/SFI Chain of Custody Standards.  
I enjoy working with organisations that are committed to social and ecological integrity in their management practices of our forests, lands and natural resources.
Britt is forester, trained at the University of British Columbia. Her past work experience is in forest and rangeland land management, small scale regenerative agriculture and silviculture. Before joining Preferred by Nature (previously NEPCon and Rainforest Alliance), she conducted work for the federal government in the US and environmental non-profits and forest consulting companies in Canada. Her areas of interest are social forestry, silviculture and restoration. 
Britt manages a portfolio of clients in western US and Canada, working with them to find compliance with the Forest Stewardship CouncilTM (FSCTM), Programme for the Endorsement Forest Certification (PEFC), Sustainable Forest Initiative (SFI), Sustainable Biomass Program (SBP), and Roundtable on Sustainable Palm Oil (RSPO) Chain of Custody Standard. 
Britt is currently the technical expert in SFI Chain of Custody and Certified Sourcing Standards. She also contributes to projects in Tailored Services and with Preferred by Nature's Sustainability Framework. 
Britt joined Preferred by Nature in October 2018 and is based in British Columbia.