'Due diligence' means taking reasonable care to avoid a negative outcome. In the case of the commodities we look at here:
For timber, we mean minimising the risk that you are placing timber on the market that was harvested, transported or traded illegally in its country of harvest. We have adopted this definition because this is what the EU Timber Regulation requires companies that place timber on the market in the EU to do.
For palm oil, soy and beef, we mean minimising the legal, social and environmental risks of trading in that commodity. The risks we have assessed relate to:
The environment: 
Environmental regulations on water use, chemical management etc must be met
Regulations on protected sites and species must be met
High Conservation Value ecosystems must be preserved 
Social issues
Staff must be legally employed
ILO fundamental conventions must be adhered to
Health and safety regulations must be met
Indigenous and traditional rights must be respected
Business issues
Land tenure must be legal
Farm registration laws and management rights laws must be met
Taxes and fees must be paid, including royalties, value added taxes, sales taxes, income and profit taxes and other fees
Information disclosure laws must be met
Conversion
New farms must not be established after November 2005 [1] on natural forests or other ecosystems
Fires must not be used to drive land conversion
Genetically-modified organisms
GMOs must not be used commercially
Animal welfare (for beef)
Animal husbandry laws must be met
Animals welfare must be maintained
Traceability (for beef)
Movement of animals between farms must be traceable and transparent.
How do you exercise due diligence?
The principles of carrying out due diligence are the same, no matter whether you are producing or sourcing timber, palm oil, soy or beef. You need to:
Access information about your supply chain. At a minimum, you will need to know the country of origin of your commodity; more information may be needed if you source from areas with specified risks. If you are producing or sourcing timber, you will also need to access information on species. You also need to have access to information on conformance with the laws on harvesting or production, as well as transport and trade.
Assess the risk that your commodity does not meet the relevant criteria. In the case of timber, this means assessing the risk that it was harvested, transported or traded in violation of laws in country of harvest.
Mitigate any risks that you identified in your risk assessment. The Sourcing Hub gives examples of what actions you can take to minimise the specific risks identified. For example, for timber, it lists the documents that indicate that harvest, transport and trade has been carried out legally. It gives examples of key documents and shows what can be done to check their authenticity.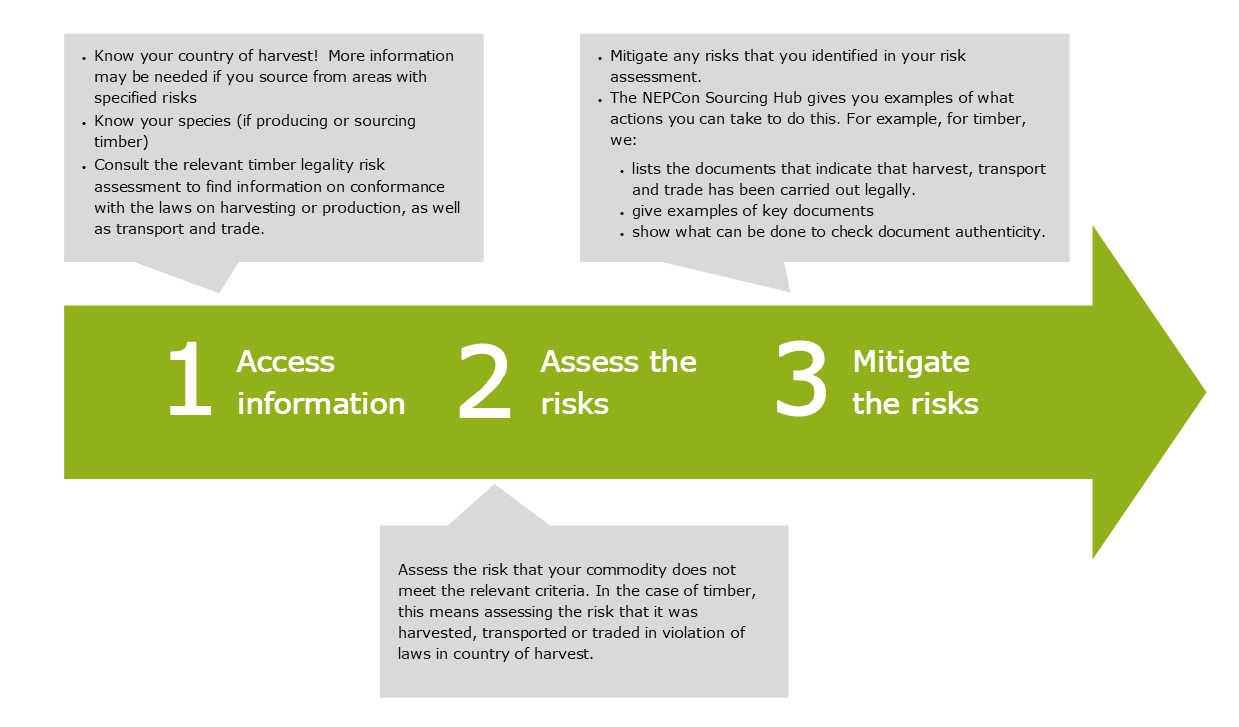 These principles of accessing information, assessing risks and mitigating risks can be applied to any supply chain for any type of risk. Companies producing or sourcing other commodities that are linked to deforestation, such as coffee, cocoa and rubber, could use the methodology we have used in the Sourcing Hub as a way of minimising the risks of illegality and harmful social and environmental impacts.
[1] Unless otherwise agreed by national stakeholders, as is the case in Brazil.
Due diligence tools
We have produced a number of tools to help you carry out your due diligence.  They include step-by-step guidelines and procedures, and a collection of templates and forms that help you to implement due diligence in practice. You can download them below.