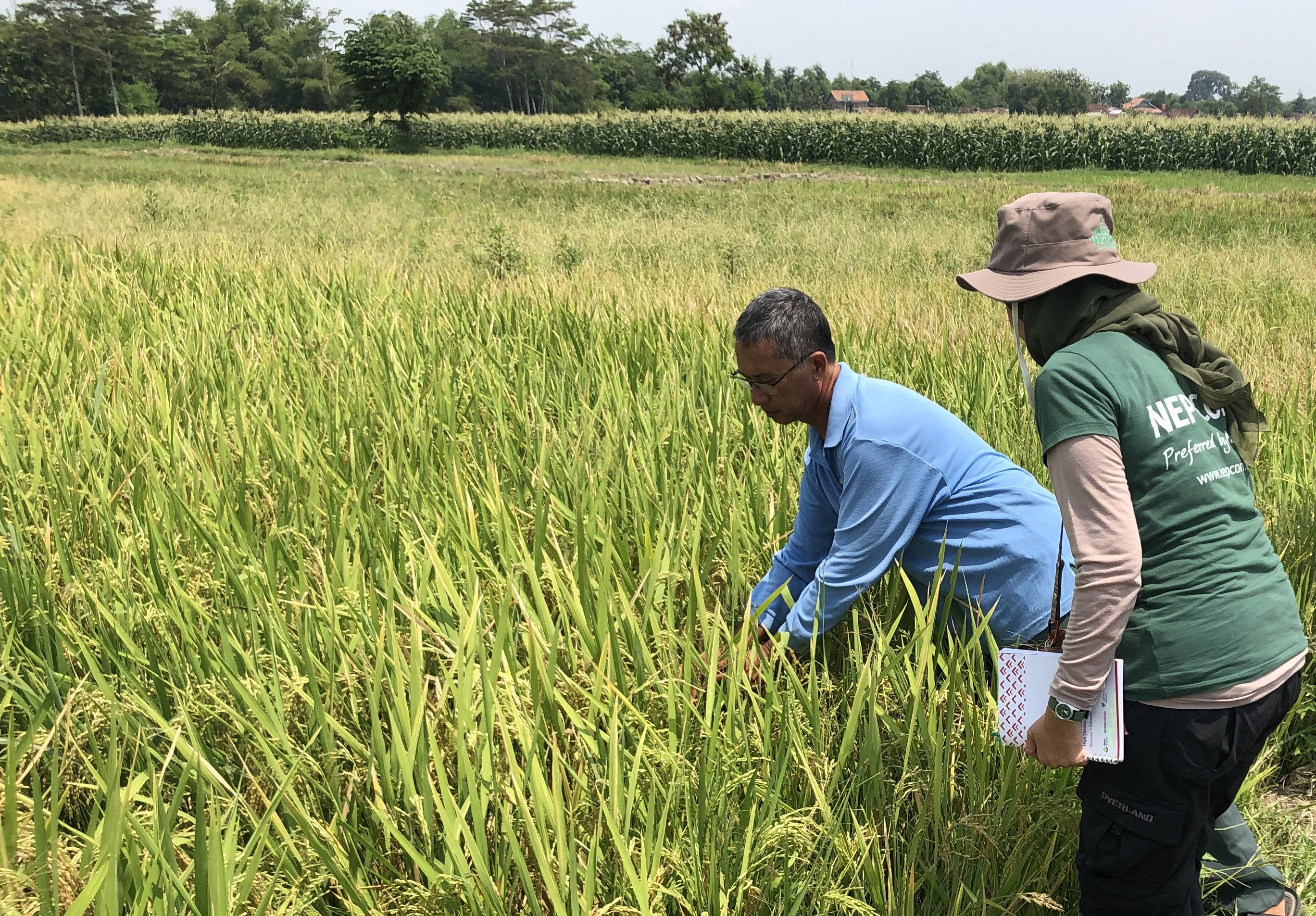 While feeding nearly 3.5 billion people, rice is one of the most polluting crops on the planet with greenhouse gas emissions equal to the entire global aviation sector. Moreover, every year millions of tons of rice straw are burned in paddy fields, creating extreme air pollution locally and affecting the health of millions.
NEPCon first organisation to get verification license
With these challenges in mind, NEPCon - Preferred by Nature is pleased to be the first Verification Body approved by the Sustainable Rice Platform (SRP) to verify rice farms across the world. The Scheme is managed by GLOBALG.A.P. This verification is applicable to rice farms that wish to adapt sustainable farming practices and obtain the "SRP-Verified" Label, which is launched today, for their rice products.
"With the Sustainable Rice Platform Standard and Assurance Scheme we now have a global system for verifying rice farming and handling a broad range of sustainability issues including critical areas related to greenhouse gas emission and air pollution. We are therefore very happy to see this scheme take off and proud to be the first third party verification body to be approved," said Peter Feilberg, Executive Director of NEPCon - Preferred by Nature.
"Huge potential for change"
Research shows that alternative growing methods can significantly reduce emissions of greenhouse gases without affecting yields. Meanwhile, the millions of tons of rice straw being burned every year as waste have a clear potential alternative uses as biomass.
"SRP was established to address global environmental and social challenges in rice production. Our Assurance Scheme offers supply chain actors a robust, cost-effective and transparent path to sustainable procurement. Consumers are increasingly demanding that our food is produced sustainably; from today, consumers can now choose sustainably produced rice and can track its origin back to the country. We therefore anticipate strong market uptake of SRP-Verified rice and congratulate NEPCon on this achievement," said Dr Wyn Ellis, SRP Executive Director.
"At NEPCon, we focus on promoting better land management that benefits people, nature and the climate. We have identified the rice sector as a key strategic focus area due to the massive sustainability issues and the huge potential for creating positive changes," said Peter Feilberg.
You can read more about the Sustainable Rice Platform here and click here to find out more about our SRP verification service for rice farms.
For further information, please contact:
Peter Feilberg, Executive Director, +45 40360866, pfeilberg@nepcon.org

Benjamin Holst (press inquiries), +45 31771100, bholst@nepcon.org
Notes to the Editor
FACTS
Rice and food security
Rice is the daily staple for more than 3.5 billion people, accounting for 19% of dietary energy globally.

Rice provides livelihoods for over 1 billion people.

Rice is produced on 160 million hectares, mostly by 144 million smallholders.
Rice and environment
Rice uses 30-40% of the world's irrigation water for production.

Rice is responsible for up to 10% of global methane emissions.

Rice fields represent 15% of the world's wetlands.

Southeast Asian rice farmers are among the world's most vulnerable to climate change impacts such as rising sea levels, salinity, temperature rise, drought and flooding.

Source: Sustainable Rice Platform
About NEPCon
NEPCon – Preferred by Nature is an international non-profit organisation that works support better land management and business practices that benefit people, nature and the climate. For over 25 years, we have worked to foster sustainable land use and responsible trade in forest impact commodities. We do this through innovation projects, capacity building, and sustainability services. Learn more at www.nepcon.org  
About the Sustainable Rice Platform
The Sustainable Rice Platform (SRP) is a global multi-stakeholder alliance led by the United Nations Environment Programme (UNEP), the International Rice Research Institute (IRRI) and Deutsche Gesellschaft für Internationale Zusammenarbeit GmbH (GIZ), together with over 100 public, private, research, financial institutions and civil society organisations.
SRP works with partners to transform the global rice sector by improving smallholder livelihoods in developing countries, reducing the social, environmental and climate footprint of rice production; and by offering the global rice market an assured supply of sustainably produced rice.
Launched in 2015, the SRP Standard for Sustainable Rice Cultivation v 2.1 provides a scientific basis for the SRP Assurance Scheme, offering a flexible, cost-effective and robust tool to de-risk supply chains, ensure stability in sourcing and enhance food safety for consumers. Retailers and brands can contribute not only to corporate sustainability commitments, but also to the Sustainable Development Goals (SDGs) and climate change targets under the Paris Agreement.
Contact:
Wyn Ellis, Ph.D. (Executive Director)
Email: Secretariat@sustainablerice.org