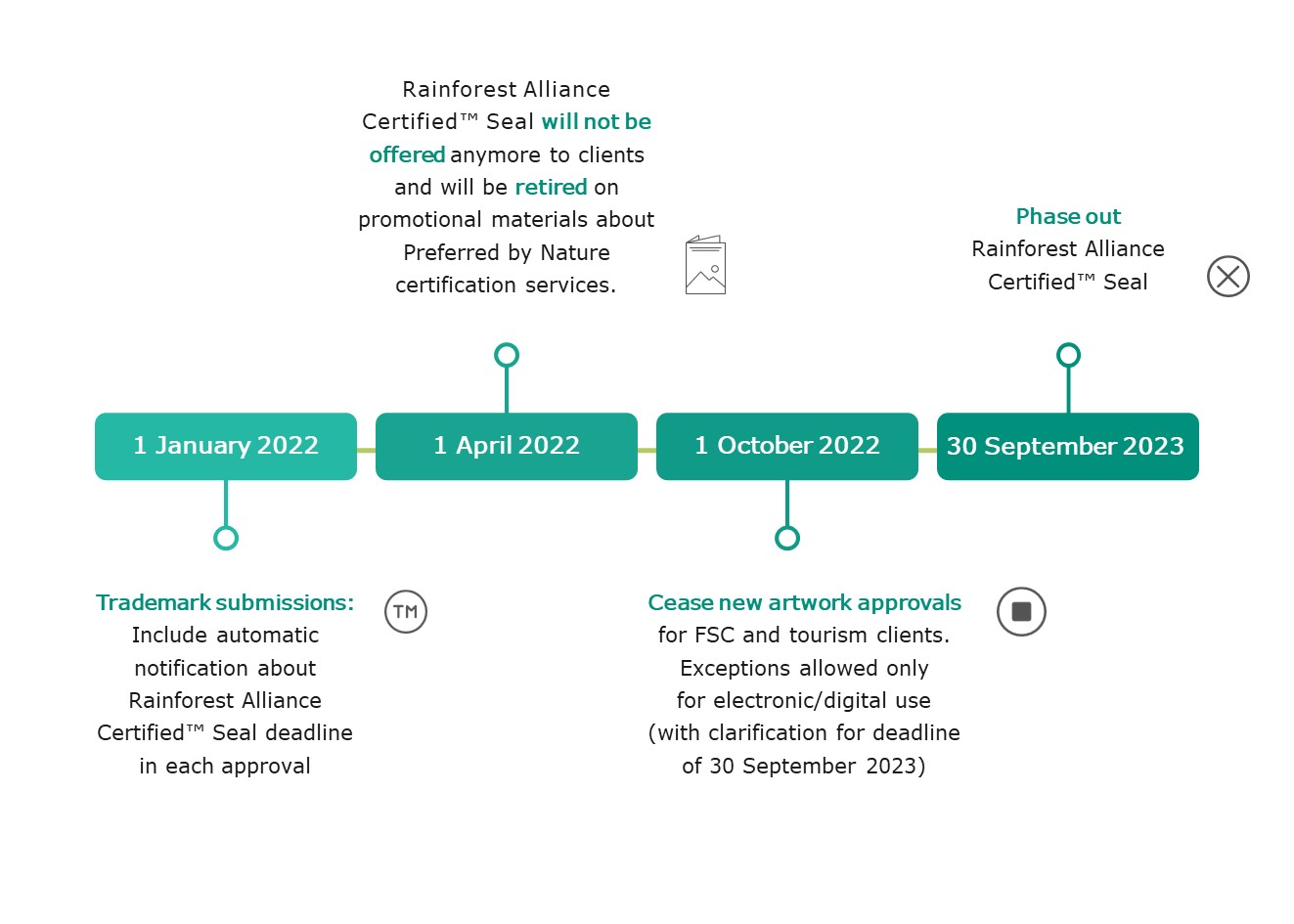 In 2018, the Rainforest Alliance's Certification Unit (RA-Cert) was acquired by Preferred by Nature and the Rainforest Alliance no longer directly certifies businesses against forestry and tourism standards.  
A collaboration agreement was concluded between the Rainforest Alliance and Preferred by Nature allowing the transitioning FSC™ and Sustainable Tourism certified businesses from RA-Cert to Preferred by Nature to use the Rainforest Alliance Certified™ seal for a period of time after the acquisition. It will remain in effect until 30 September 2023, as specified in the terms and conditions of the License Agreement that was signed between Rainforest Alliance and the clients.
Effective 30 September 2023, the License Agreements shall be automatically terminated and businesses will not be able to use the Rainforest Alliance Certified™ seal on the certified products or the related promotional materials. However, the products that were previously labelled and sold with the seal before that date will remain in the marketplace after 30 September 2023 and can be sold until inventories are depleted.
As far as the promotional use is concerned, businesses will need to have all promotional use removed by 30 September 2023. As such companies should plan ahead to stop any new printing of materials, such as brochures and business cards that carry the Rainforest Alliance Certified™ seal. Webpages and other media sites will need to be re-designed and published by this date.
Based on the expiration date, Preferred by Nature will cease all new artwork approvals that include the Rainforest Alliance Certified™ seal effective 1 October 2022. This one-year period is to allow time for FSC and Sustainable Tourism clients to fully phase out the circulation of packaging and labels with the Rainforest Alliance Certified™ seal.
Alternative labelling that could be used instead of the Rainforest Alliance Certified™ seal is Preferred by Nature's hummingbird label, which, however, may be used if certain conditions are met. The Sustainability Framework programme has been developed by Preferred by Nature to ensure a common level of compliance across sectors and commodities. The programme covers all important sustainability topics and includes a consistent set of related criteria. The hummingbird seal is available for use by any organisation complying with the criteria of the Sustainability Framework certification programme. The framework has a significant overlap with the existing sustainability standards, although there will likely be some additional conditions that certified companies will need to fulfill, to be eligible to use the new seal. These requirements can be integrated into organisations' regular audits, to minimise the related costs.
Preferred by Nature will appreciate FSC and tourism clients of this scope to implement due diligence based on their circumstances, to meet the final 30 September 2023 expiration date.
We would be happy to offer you our support in the phase-out process and provide you with any updates. Get in touch with us or your local contact person if you have any questions.