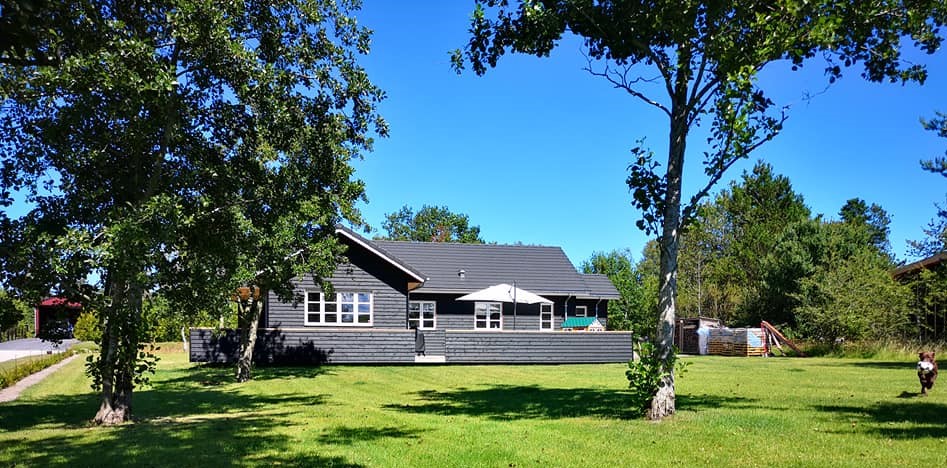 It is an old Danish tradition to own a summerhouse and the Danes love it. For Kent Skovgaard, he took this aged-old tradition a notch above. Besides injecting a dose of Danish Hygge in his newly built summerhouse in Nordjylland, he used FSC (Forest Stewardship Council™) certified materials for the house named "Klubhuset" (literally translated as the clubhouse).
Building labour of love
When the time was ripe for Kent Skovgaard and his wife to search for a summerhouse, they wasted no time and immediately went looking for a house of their dreams in the same area as Kent's parents' summerhouse.
"We started looking in the area, Erteboelle but soon found most properties have insufficient insulation. Besides, these summerhouses require a substantial amount of renovations, which would increase our budget."
"Then this idea sparked in my mind. Why don't we buy land and build a summerhouse of our dreams?" shared Kent.
Kent who has spent the last 10 years working for NEPCon as the Director of NEPCon Certificering ApS (NEPCon legal entity in Denmark) cum Director of Traceability for Europe and Russia decided not only to build his own summerhouse but also to use FSC-certified materials and to obtain FSC Project Certification.  
FSC Project Certification is a project and site-specific. This type of FSC certification can be used for virtually any type of new build or refurbishment project, civil engineering projects, or events such as exhibitions and festivals. There are two options – Full or Partial Certification, depending on the percentage of FSC-certified timber use.
"At NEPCon, I advise companies to become FSC-certified, so naturally, I need to heed my own advice, isn't it?" quipped Kent with a hearty laugh.
When he brought his idea to a construction company, Kent received pessimistic feedback. "I was told that there are no suitable FSC-certified materials to carry out the project and it is impossible to get a family house certified, without compromising on quality and design. So, I decided to prove them wrong," said Kent.
Once Kent decided to move forward with his plan, he started designing the summerhouse using AutoCAD. The computer-aided sketch helped him throughout the planning and construction processes.
After settling on the design, he began searching for FSC-certified building materials. He then sought help from his 74-year-old father and friends to assist in the construction of the "Klubhuset".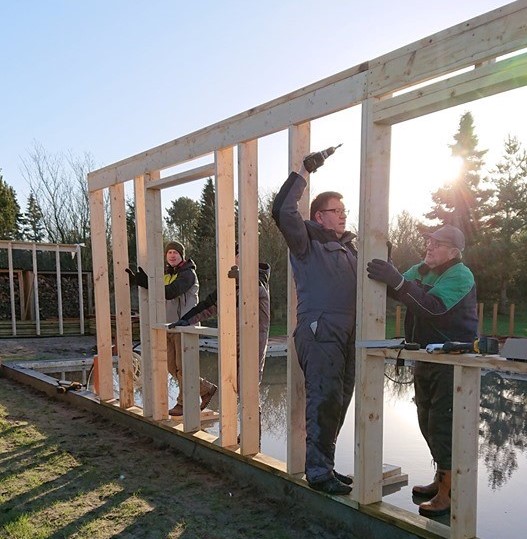 They started building the house in December 2018 and completed the construction in June 2019. The summerhouse consists of three bedrooms and one bathroom, kitchen with a dining area, a living room, as well as a mudroom.
Choosing FSC-certified lesser known timber species as building material
To date, there are only three FSC Project Certified houses in Denmark. "Klubhuset" is the third in the list and has been certified with an FSC Partial Project Certificate. Up to 83 percent of building materials are FSC-certified.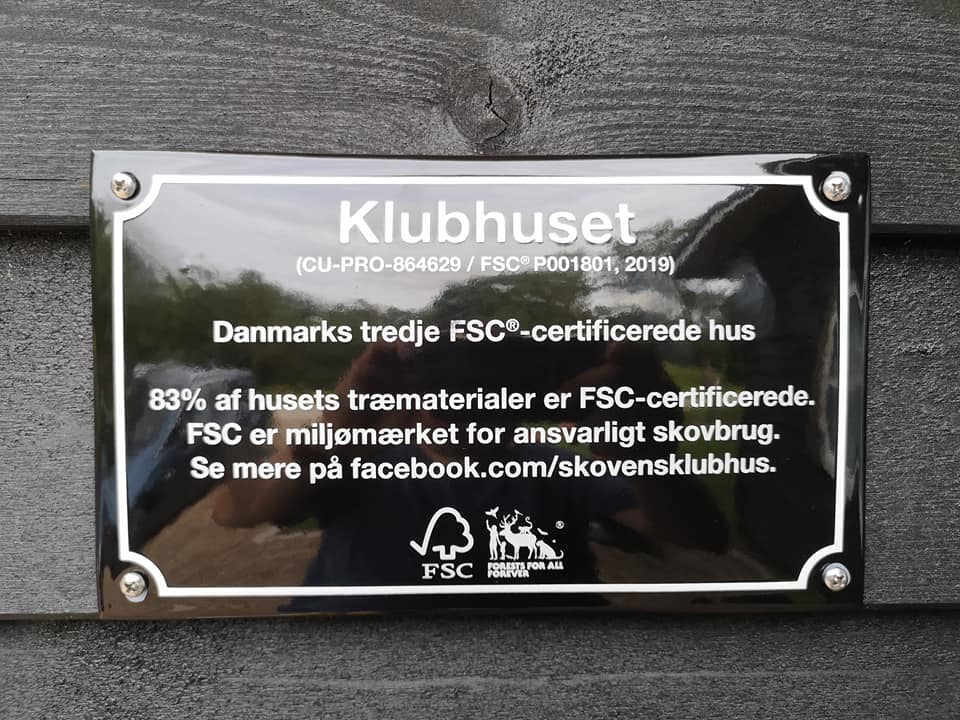 "When I first decided to embark on the project, I wrote to several colleagues in NEPCon as well as auditors in other FSC project certifiers (certification bodies).
In the end, only one from a rival certification body was willing to certify the house. My colleagues from NEPCon did not take up the project due to conflict of interest. This is an indication that NEPCon follows abides by strict non conflict of interest principles." 
Initially, Kent wanted to use heat-treated wood for the construction of the deck. After much thought and consideration, he decided to use FSC-certified wood of Guariuba and Muiracatiara as these species are easy to maintain. These are lesser known timber species (LKTS).
LKTS are alternatives to commonly used commercial timber species. Previously, LKTS were often under-utilised. Using LKTS can reduce the dependence on some of the most popular species in the world and protect biodiversity for generations to come. LKTS also cost less than other popular species.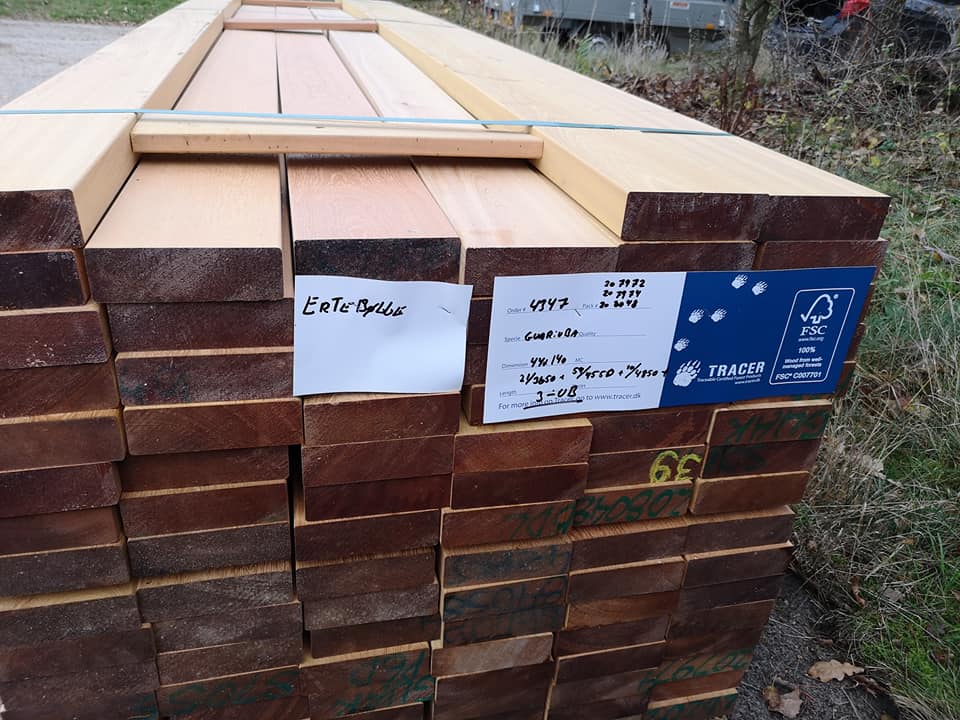 Kent took into consideration the transport greenhouse gas (GHG) emissions to import the LKTS. "These LKTS are more durable in comparison to European Larch, which is less stable and less durable. The LKTS can withstand a high amount of moisture from the rain especially during summer months in Denmark. Considering all these factors, it is a better choice to use LKTS.
"Besides, my chosen LKTS also gives an exclusive hardwood look. It would also be a good opportunity to promote these LKTS as most Danes use Ipe and Cumaru Wood for construction."
Meanwhile, for wall cladding, Kent chose a green technology developed and patented by a Danish company known as Superwood to impregnate wood without using heavy metals and solvents, thus, making it environmental-friendly. 
Environmental-friendly, both inside and outside
Prior to joining NEPCon, Kent was a cabinet maker by trade. So, when it comes to creating an inviting and cosy space, Kent knows his stuff, largely thanks to his previous experience as a furniture maker. After discussing with his wife, the couple decided to try and recreate the "hygge" found in the interior design of summerhouses from the 70s.
He embraced Hygge (pronounced hue-gah) - "a quality of cosiness and comfortable conviviality that engenders a feeling of contentment or well-being", according to Oxford Dictionary - in the home with additional touches like warm tones and plenty of natural light in the living room to give the house a cosy feel.
Besides using FSC-certified building materials, Kent also creatively reused by-products and transformed it into new furniture. "I made the dining and coffee table from used floorboards collected from an old farm in the southern part of Denmark. The upcycled dining table looks imperfectly perfect!" Kent shared, his voice exuded buoyancy.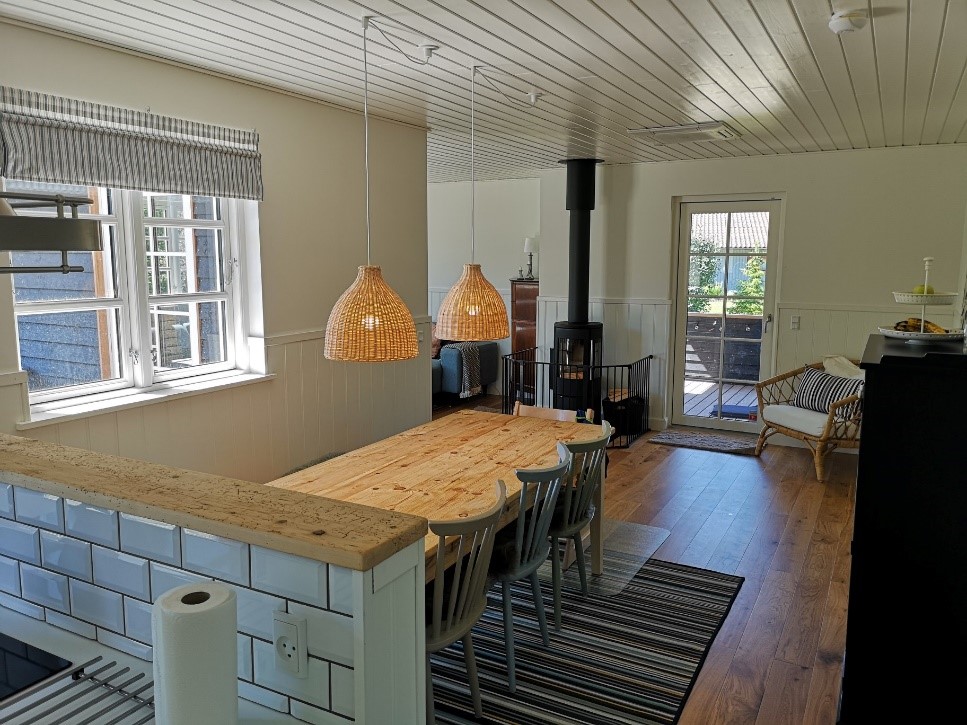 Green plans in the near future
"I think I'm a true NEPConer at heart," quipped Kent. "Besides a summerhouse with an FSC Project Certification, I drive an electric car too and my other home has solar panels installed on its roof."
Moving forward, he will hang a plaque in front of the house that tells the story behind "Klubhuset". "I truly believe that we can all do something to protect our forests, so having this house with an FSC Partial Project Certification means a lot to both me and my wife."
Traditionally, Danish summerhouses have neatly clipped hedges and flowerbeds in their gardens. The couple plans not to keep the straight edges and corners but to grow more wildflowers that could help bees thrive. 
"I also have plans to build an insect hotel with different types of natural material and place it in the garden. And of course, I would also like to install solar panels in this house."
When asked why the house is named "Klubhuset" Kent said, "From now on, this will be the place for family and friends to come together.
Building an FSC Project Certified house – Tips from Kent Skovgaard 
Instead of designing an FSC-certified house, design a summerhouse of your dreams. Source for FSC-certified building materials based on your design plan. 
Don't be afraid to change your building materials during the construction process. 
For those who are familiar with the FSC system and certification process, develop your own set of procedures. Visualise and plan all your tasks based on a Gantt chart. 
For those who are unfamiliar with the FSC system, find experts or companies with intimate knowledge of FSC standards and certification. 
*The summerhouse's license code is FSC-P001801.
All photos including featured image by Kent Skovgaard/NEPCon.