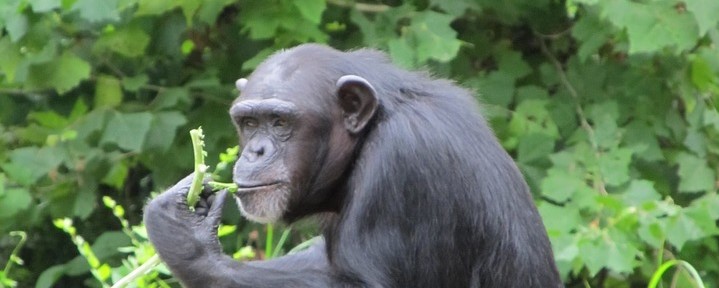 A new WWF report shows that orangutans, gorillas and chimpanzees are all getting a helping hand from FSC.
WWF calls for expansion of  FSC certification in logging concessions that are home to great apes, as an additional measure to establishing reserves .   
FSC certification - a key part of the solution
Several studies conducted over the past few years in Borneo, the Congo Basin, and the Amazon forest show that the great apes and other large mammals are often thriving in FSC certified forests. 
The great apes are often found in logging concessions outside of protected areas and are threatened by unsustainable logging and hunting. WWF points out that the combination of selective logging methods and controlled hunting guraranteed by FSC certification is key to ensuring sustainable conditions for the apes. Also, FSC requirements to preserve fruit trees and dead wood are of importance.
A key recommendation based on the study is therefore to create a network of effectively managed parks and FSC-certified logging concessions, which together would ensure the long-term survival of the great apes.
While the current progress of certification in the Congo Basin provides hope that FSC may make a substantial difference for the gorillas, chimpanzees and bonobos living there, the certification process in tropical Asia remains relatively slow. WWF calls for increased political and financial support to FSC certification of the tropical forests that are home to the great apes.
All four species of great ape - gorilla, orangutang, chimpanzee and bonobo - are threatened by degradation and loss of their habitat as well as unsustainable hunting pressures. The bonobo is only known from a single country (Democratic Republic of the Congo, DRC).
Sources: WWF and FSC-International
Related stories
Review documents the impact of FSC (27/8 2009)
FSC makes a difference in the tropics (8/7 2009)
Brazil: 20-times increase in consumer recognition of FSC (26/6 2009)
EU and the Republic of the Congo team up to halt illegal logging (22/5 2009)
Forest certification in progress in Africa (April 2009)
Rainforest Alliance: FSC certification ensures wildlife sanctuaries (9/3 2009)
DRC cancels logging of 13 million hectares (February 2009)
Impact study confirms benefits of FSC certification in Brazilian plantations (4/11 2008)
Study shows 20 times less deforestation in FSC forest compared to strictly protected area (7/4 2008)