Compagnie Forestière de Transformation (CFT) in the Democratic Republic of the Congo (DRC) recently obtained third-party legality certification for their forest management and logging operations in three concessions near Kisangani in Tshopo Province. The legality certification is the country's first in eight years. It is also NEPCon's first LegalSource™ certificate in the DRC.  
First legality certification after almost a decade
Logging is common in the Congo Basin rainforest in Central Africa, the world's second-largest rainforest. Over 60 per cent of the forest is found in the DRC. For many locals in the DRC, logging is part of their income. Unfortunately, logging activities are driving deforestation and are associated with various legality, human rights, and environmental issues.
According to WWF, forest certification is widely seen as the most important initiative in the last 10 years to promote better forest management. Various verification and certification schemes are available to promote and certify the legality and sustainable forest management.
Legality verification refers to a minimum level for all forestry operations to meet, while certification is a maximum level of excellence where operations can distinguish themselves. For companies looking to demonstrate that they are harvesting legally, those in high-risk producer countries can seek to obtain independent third-party verification of legality, or certification of both legality and sustainability.
Presently, there are no forest management or timber legality certificates in the DRC. Compagnie Forestière de Transformation (CFT) is the first forestry company in the DRC to obtain a third-party legality certification – eight years since the last forest legality certification was issued in 2011. The certificate covers their forest management and logging operations in three concessions near Kisangani – the capital of Tshopo Province, Ubundu District.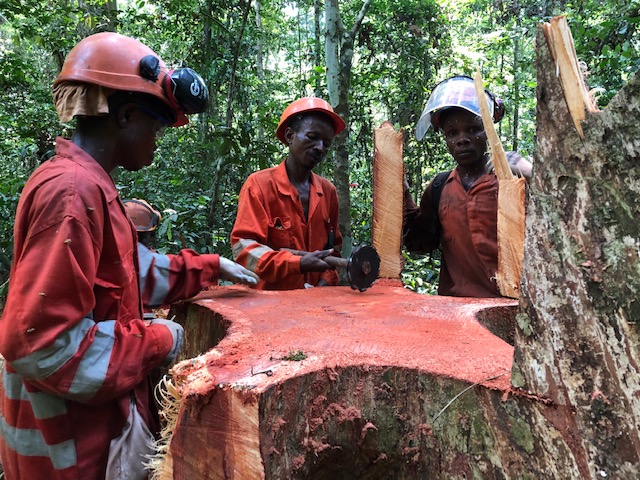 Intent to demonstrate timber from their supply chains comes from a legal source
"In view of the negative perceptions surrounding the DRC's forestry sector, we decided to obtain a legality certification from the first day of operations in 2013," says CFT Managing Director, Karim Ammacha.  
For CFT, becoming LegalSource-certified is important as it fits their commitment to demonstrate timber from their supply chains comes from a legal source as the company intends to export timber to European countries. 
"It is our responsibility to obtain the certificate to demonstrate our commitment to all third parties and maintaining the certificate is our goal. The certificate will facilitate our efforts in placing lesser-known secondary species in the European market," explains Karim.
In CFT's view, obtaining the certification would help boost the morale of other companies working within the same sector. "They will put more effort into developing their concession plan."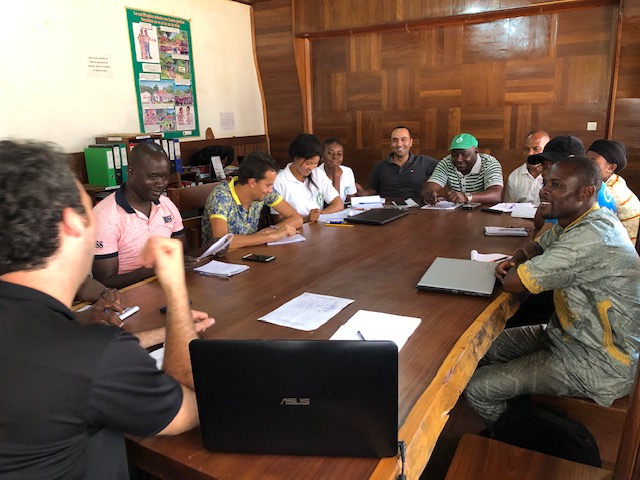 NEPCon's first LegalSource certificate in the DRC
CFT first approached the Rainforest Alliance and expressed their interest in obtaining Forest Legality Verification (FLV) for independent verification of due diligence systems for forest products supply chains in 2018. Due to an Ebola virus disease (EVD) outbreak in the DRC in 2018, the planned assessment was postponed to a later date.
While waiting for the latest development about EVD, in October 2018, the certification and verification unit of the Rainforest Alliance was acquired by NEPCon. NEPCon, therefore, was responsible for the assessment of this legality certification. As a result, the legality certification was switched from the FLV Standard to NEPCon LegalSource.  
A team of three auditors, including two with long experience in the Congo Basin, conducted a full assessment in February 2019 after the DRC authorities brought EVD under control.
Prior to arriving in the country, the auditors obtained documents such as forest management plan, CFT 2018 annual operating plan, operating procedures and instructions documents, and other relevant documents from the CFT. The team also read up on the DRC's timber policy and legal frameworks as well as Timber Legality Risk Assessments from NEPCon Sourcing Hub as part of preparations.
Once onsite, they interviewed various stakeholders ranging from national non-governmental organisations (NGOs) to consultancy companies, and government officials representing the Ministry of Forestry Economy and Sustainable Development, Labour Commission, and Tax Authority, among others.
"The team visited three concessions in the Tshopo Province. During the assessment, no major non-conformity was observed, which allowed the issuance of the LegalSource certificate," says NEPCon Africa Regional Manager Sandra Razanamandranto.
NEPCon is glad that CFT focuses on doing the right thing to fulfil their commitment to legal timber production. "We hope this is first of many legality certificates to come in DRC," adds Sandra.
What can you do if you are sourcing timber from the DRC
"Those looking to source legal timber from the DRC should request for company timber legality certification. Other documents to look out for are logging permits, forest taxation records and forest management plans," explains Sandra.
If you'd like to read more about the Timber Risk Profile in the DRC, visit the NEPCon Sourcing Hub. The Sourcing Hub provides detailed and useful information aimed at helping companies meet the due diligence requirements of market regulations such as the European Union Timber Regulation. The hub covers more than 70 countries, with guides to the applicable legislation in each country and detailed explanations of key documents.
LegalSource certification is designed to help companies meet their own sourcing policies or to trade legal timber in line with key market regulations. The services can be tailored or combined to suit your needs. Contact us to learn more about this service.
All photos by Compagnie Forestière de Transformation (CFT)