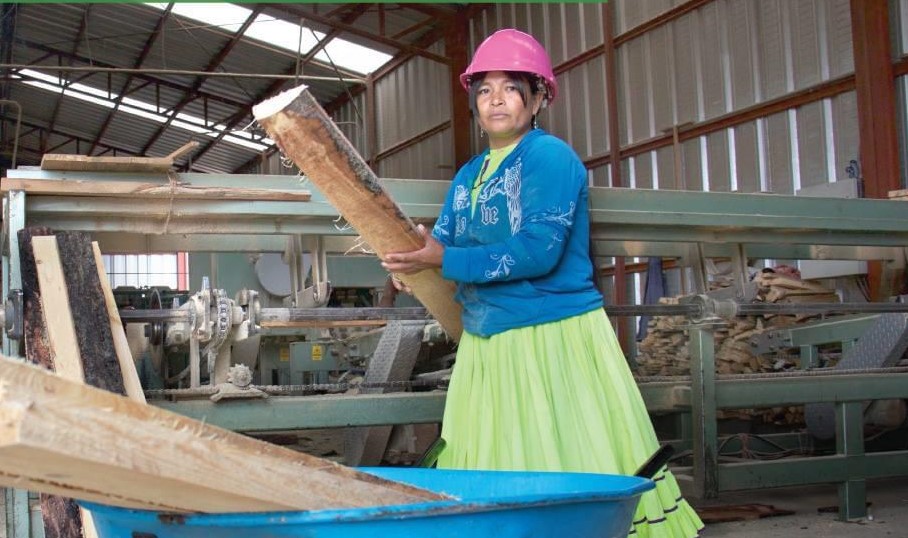 Over the last 20 years, little was heard internationally of the Rarámuri women from Ejido Caborachi in Chihuahua, Mexico – the patriarchal system ingrained within the forestry industry may have kept these pillars of the community in the background.
Today, the Rarámuri women are making more strides within their Ejido workforce, directly contributing to the forestry and agroforestry value chain. These opportunities have unlocked their potential by offering them management positions and connecting them with others facing similar situations, leading to economical improvements for the families and community as a whole.
Women around the world have been playing a central role in many walks of life – from farmers producing food for millions to healthcare professionals working on the frontlines. Yet, in certain industries, particularly the forestry industry, women still face countless adversities that curtail their true potential. 
In the forests of Sierra Tarahumara, within the municipality of Guachochi in Chihuahua, forest concessions managed by Ejido Caborachi have been traditionally dominated by male workers due to the widespread misconceptions that forestry work is too physical or that the environment is too dangerous for women to work in. 
However, in the last two decades, the women have made considerable progress in shattering the stereotypes by recording an increase in their labour force participation, thanks to the changes within the community itself.
Back in 2000, María Arteaga was the only woman working in the Ejido. "Things have changed now. There are more women working at the sawmills and the mountains, it's close to 90, but it was not an easy feat to accomplish this," explained Arteaga.  
Indigenous Rarámuri as vital stewards of the environment
Ejido Caborachi is made up of 79% indigenous people, predominantly of Rarámuri population. You have probably heard of the Rarámuri community, renowned for their physical dominance in long-distance running, as depicted in the Netflix documentary about a sandal wearing Rarámuri woman named Lorena who conquers ultramarathons. 
Aside from long-distance running ability, this group of indigenous people are also forest defenders. "Caring for forests and trees are fundamental, as it is our source of food and life," said Estanislao Rubí Aguirre, President of Ejido Caborachi. Since forests are the major source of food for Carobachi, they ensure the forests are carefully managed. Annually, they reforest over 80,000 trees.
According to a recent report by the Food and Agriculture Organisation of the United Nations (FAO) and the Fund for the Development of Indigenous Peoples of Latin America and the Caribbean (FILAC), indigenous and tribal people have been dubbed the 'best guardians' of the forests – and the Ejido Caborachi is a good example of this.   
 
The Ejido administrates a total area of 27,997 hectares, of which 17,000 hectares are within a forest management plan and 6,000 hectares are reserved for conservation. 
They began forest harvesting operations in 1958, diversifying the forest sector that can deliver livelihood improvement for the community while managing forests sustainably. Over the years, the Ejido has established sawmills and tablets through Ejidal Carobachi Forestry Company. The forestry company also operates an online store that sells ceramic dishes and produces compost derived from wood waste for agricultural use.
The Ejido has received the Forest Stewardship Council™ (FSC™) Forest Management (FM) certification by Preferred by Nature. The certification confirms the community's commitment to responsibly managing the Sierra forest by preserving its biodiversity and benefiting the lives of locals, while ensuring it sustains economic viability. 
Creating a space to unlock women's potential 
The Ejido adopts a system that allows active member participations in activities such as assemblies, socio-economic monitoring, sitting on the Ejidal (communal) council, and meetings with indigenous governors. Decisions from all these activities must take into consideration the availability of natural resources and its impact. All profits and its distribution must be divided equally between men and women. Out of 115 members on the Ejido board, 96 are men and 19 are women. 
Although the number is still relatively low, the Ejido has come a long way in welcoming female participation at the forestry company and within the community. Currently, there are about 50 women working on reforestation and soil conservation for the company. However, men continue to outnumber women in positions such as drivers and crane workers.
"Lately, women have become more active and involved. Although there has not been a female president in the Ejido Commissioner's office, several women have participated in the Board of Directors' of the Ejido's Commissioner Office so far," said Arteaga. 
Most recently, the Ejido and the local government have provided more opportunities for women through a wood chip processing project. The wood chip facility will provide jobs to almost 20 ejidatarias.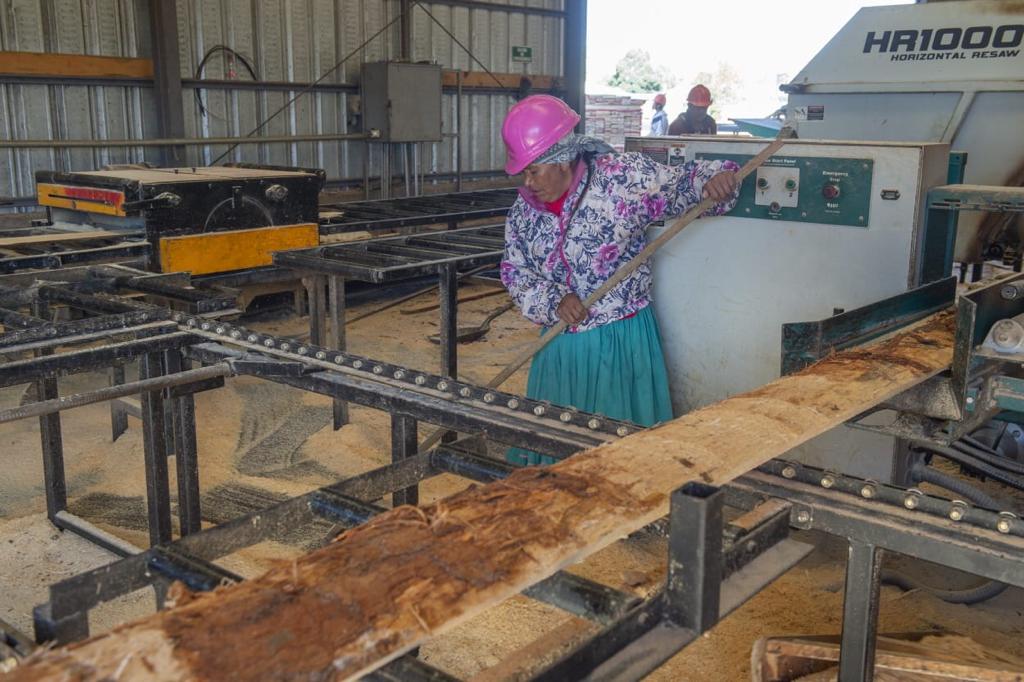 As women and men possess different knowledge regarding specific trees and forests, which can be complementary, joint contributions are essential to effectively sustain collaborative forms of forest management. 
To Estanislao, the participation of women in all productive activities within the Ejido is important. He shared, "Women are responsible and accountable with their work, they follow guidelines and rules – just like any other employee – have many skills and provide valuable input. They can work on the same tasks performed by men." 
He added that income from these activities helps women pay for their children's school fees and buy food. This is a clear indication that providing women with better economic opportunities can have a positive impact on children's literacy levels and fighting malnutrition within these communities.
A recognisable face in empowering indigenous women 
Having female role models has been proven to be key drivers in stirring change, and indigenous Rarámuri women facing a host of social obstacles, is no exception here. Over the years, Arteaga has played a pivotal role in the forestry development of the Ejido. She is now playing a far bigger role by serving as a treasurer. Throughout her career, she has overseen several training workshops and development programmes which provided a good platform for her to demonstrate and share her knowledge and skills to the rest of the community women.   
Her persistence and determination to inspire other Rarámuri women paid off when she received a scholarship that allowed her to participate in an exchange programme with indigenous women from various Latin American countries, held at Costa Rica. The programme enabled indigenous women to learn and gain in-depth understanding on forest management and food security issues. 
"Interacting with women from other countries showed us that our challenges are similar. They faced obstacles in getting support to progress, especially from their partners, or husbands. They (spouses) do not allow women to express themselves and it scares them. Fortunately, I have always received support," explained Arteaga. 
She continues to keep in touch with other indigenous women, to be informed and strengthened by their knowledge. Arteaga also supports her fellow indigenous Rarámuri women by sharing knowledge to help them embrace their role as defenders of the forests. 
 
The Ejido participates in the Forest Expo that takes place in Guadalajara every year, promoting their wood products and samples, as well as handicrafts. Successful experiences by the Ejido, communities and indigenous peoples are being documented, not only on sustainable forest management but also the success in product diversification within the territories.
"They created the means to face various adversities. Such examples show that the participation, empowerment and recognition of women's rights are essential to achieving sustainable development," said Arteaga.
All photos provided by Ejido Caborachi.