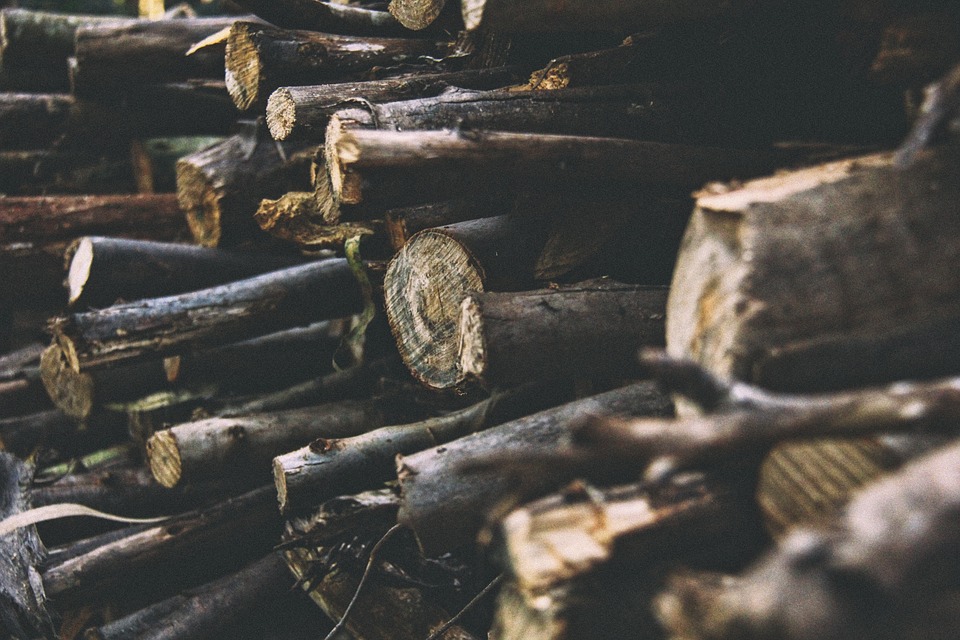 Among the numerous new approaches to mitigate global warming, some may open up new business opportunities for forest industries.
One such emerging product is the so-called biochar, a biological equivalent of the fossil-fuel based charcoal. But is it a new major business arena for forest products? And is it good or bad business in terms of its environmental and social effects?
Opinions are divided. Proponents of biochar claim that it could be one of the key solutions to global warming, while some NGOs are concerned about its industrial-scale use.
What is biochar?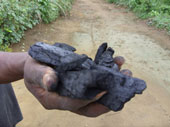 Biochar can be made from organic matter and is obtained through a form of combustion called pyrolysis. The process results in biogas for energy as well as the binding of organic compounds into clumps of biochar.
Any organic product, such as agricultural or forest primary products or waste products, can be used in biochar production.
Biochar can be an aspect of integrated soil management whereby the long-term fertility of soil is conserved and the use of slash-and-burn techniques can be minimized, thus reducing deforestation. 
Some researchers are developing a system where large kilns "microwave" wood into charcoal. Others are looking into various forms of organic waste for the biochar production. While current biochar projects are small-scale, the general vision  is to produce biochar at large scale which can then be stored in disused coal mines or tilled into the soil to improve it. Locking carbon up in biochar would help fight global warming, although it is as yet unclear when exactly the carbon will be released again. Some say hundreds to thousands of years, while others are more skeptical.
The proponents of biochar count a number of scientific researchers and environmental campaigners, including the famous British environmentalist and founder of the so-called "Gaia Hypothesis", James Lovelock, NASA's James Hansen and the well-known climate campaigner Tim Flannery.
Green solution or blind alley?
However,  NGOs are warning that attempts to fix the world's climate problems through big-scale application of biochar production  could have damaging results on the ground, and even be counter-productive in terms of climate change mitigation.
Proposals to use massive land areas for industrial plantations of crops or trees grown specifically for this purpose are of special concern. This would be similar to growing of biofuel crops which is already known as a major driver of tropical deforestation - which in turn is responsible for 20% of global greenhouse gas emissions. On the other hand, proponents of biochar point out that its production can be based on organic waste products that already exist, and that small-scale application should simply be rolled out at a larger scale  - e.g. each farmer might produce his own biochar.
The social impacts of biochar are as disputed as the environmental benefits. Supporters claim that biochar can help to end poverty and hunger e.g. through soil fertilization and clean household energy. Several African governments are promoting the inclusion of biochar in the post-2012 treaty to be negotiated in Copenhagen in December. Meanwhile, the critics are wary about negative social effects and warn against including biochar in carbon trade schemes. In a joint press release issued this spring, almost 150 NGOs said, "Turning soils into a commodity is profitable to industry but disastrous for the poor".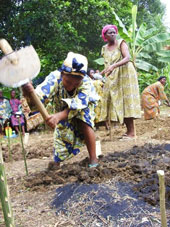 Application of biochar to poor African soil.
In the midst of the controversy (or the 'biochar wars' as some have dubbed it), one thing seems clear: The sustainability of biochar depends on the  approach. Sustainable biochar development does not build on the conversion of natural forests or the use of extensive natural areas for growing biochar crops. But it might involve residual forest products in addition to other forms of organic waste produced outside the forests.   
Sources: Environmental Heatlh Perspectives, GreenBang, Mongabay, BioChar Fund, the Guardian, BioFuelWatch, BBC News
Pictures showing biochar: Etchi Daniel-Jones, Laurens Rademakers
Related stories